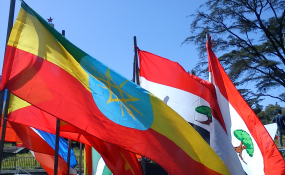 Photo: Soman/Wikipedia
By Zelalem Girma
Nearly, three per cent of Africa's total population or more than 30 million Africans are living outside their home countries including those living within other African countries. These African migrants send money to their families in Africa. Remittances by African migrants play an important role as a source of financing and foreign exchange for African households and countries.
Remittances by African migrants provide many benefits to both African households and governments. Poor households receiving remittances tend to have better living conditions than their counterparts without access to this source of income.
According to the World Bank, remittances by African migrants could support between 10 to 100 people, by boosting household income and spending on food security, healthcare and education. Thus, remittances play an important role in poverty reduction and improving human development.
To get the better of poverty reduction, African governments should foster the involvement of remittance organizations, micro-finance institutions and post offices to facilitate transfer of remittances.
For instance, the International Somali Awards (ISA) recently honoured the greatest achievements of the worldwide Somali community. The ISA pays tribute to inspiring Somali success stories from all walks of life, and recognizes inspirational role models from the fields of business, social work, sports, education and entertainment.
In this regard, various companies such as African money transfer LTD Dahabshiil have been recognized for their leadership in social entrepreneurship and job creation in the Somali regions throughout years of challenging economic conditions.
As Dahabshiil was recognized for its contribution to the international Somali community, its contribution was to provide relief efforts across the Horn of Africa through donating directly to drought alleviation committees in the region. Over the past six months, the company has given roughly one million USD through direct donations, with a further 300,000 USD of support announced last week as the crisis worsens, The Star, a daily newspaper based in Nairobi, reported.
Among the winners at the event were Ahmed Rooble, a scholar at Eton who was presented with the award for Outstanding Educational Achievement.
According to ISA, Ahmed is a 15-year-old Brixton schoolboy. He is the only boy from London and is one of only nine nationwide, to win a full two-year scholarship to Eton's sixth form this year. He is head boy at Ark Walworth Academy, where teachers expect him to earn A's across the board in his GCSE's. He is also a volunteer police cadet, a member of Southwark Youth Council and a keen charity fundraiser. Ahmed hopes to win a place to read history at Oxford or Cambridge to emulate David Cameron.
On the other hand, Mukhtar Ali, the promising footballer currently on loan at Vitesse, who won the Sports Person of the Year award. He is a footballer recently signed to Chelsea FC - a prodigious talent with the potential to be the greatest Somali footballer of all time.
On receiving his award, Mukhtar Ali said: "I am very honoured to win this prestigious award, and it was remarkable to share the same platform with so many inspirational figures. The successes and contribution of Somalis in Britain and across the globe is notable and encouraging. I wholeheartedly thank the thousands who voted for me."
Dahabshiil CEO Abdirashid Duale, who presented Mukhtar Ali with the sports award, said: "We will continue supporting young Somalis at home and abroad to achieve their dreams. I am happy for Mukhtar Ali fort his achievement. He is a great inspiration to many young Somalis back at home and in the diaspora."
"We are proud to sponsor diaspora events involving people from across Africa, including Kenya, Ethiopia, Sudan, South Sudan, Uganda and Rwanda."
on the other hand, Abdirashid also said that remittances play an important role in the economic development of these African countries, whose strong and vibrant diaspora communities are so vital to their global interests. "We will continue to do all we can to keep those communities connected to their homeland," he added.
Indeed, at a macro level, flows of remittances could improve the balance of payments and bolster a country's foreign exchange reserves. By stimulating savings, remittances can also have an impact on financial development and foster long-term economic growth. Furthermore, remittances could be a catalyst for investment and economic growth by supporting small business start-ups.
Although migrant remittances offer sizable benefits to Africa, existing policies in a number of countries create barriers for deployment of these flows for national gain. The bulk of this money is stashed in foreign bank accounts. Attracting these funds to Africa could significantly improve market liquidity which could be used to finance the region's investment requirements, particularly in infrastructure. Thus, African governments should devise measures aimed at encouraging the African Diaspora to send back their savings into African economies.
In this regard, fostering the role of micro-finance institutions can be considered among the measures to be taken. To look over the realities, the African remittance market is currently dominated by the leading global transfer companies such as Western Union, Money Gram, and Dahabshiil.
According to an International Fund for Agricultural Development (IFAD) report, expanding the number of institutions offering remittance transfer services could more than double payment points in Africa. Saving and credit cooperatives and micro finance institutions, would also be used as payment points for remittances.
Improving the business climate in Africa is another means to attract remittance flows from the Diaspora. A business-friendly environment may induce African migrants to send more money to their home countries and invest in productive domestic projects.
A possible avenue for investing remittances would be the Diaspora bonds - operated in Ethiopia - which some other African governments have been contemplating. According to estimates, Sub-Saharan African countries can raise between USD 5 billion and USD 10 billion per annum through the issuance of Diaspora bonds. In 2011, Ethiopia launched its second Diaspora bond aimed at funding the construction of the Grand Ethiopian Renaissance Dam, which is expected to be Africa's largest hydroelectric power plant.
More of these, adopting new technologies of money transfer is an instrument to attract remittance flows to rural areas. An estimated 30 to 40 per cent of remittances to Africa are sent to rural areas where banking facilities are generally non-existent. As a result, people travel long distances to receive their money. This cost of travel represents an additional burden to the already high cost of transfer.
Therefore, expanding payment networks to small-scale merchants and encouraging the adoption of new technologies such as payments through the internet or mobile phones can widen the reach of remittances and enhance financial inclusion to the people that need it most.
In sum, remittance service has various benefits for developing countries in many respects such as to bring better living conditions, reduce poverty, human development. Above all, it mainly reaches for drought alleviation purposes and helps many to achieve their dreams. In addition, remittance can play a role in the economic development of African countries, improve the balance of payments and bolster nations' foreign exchange reserves. Stimulating savings, it has an impact on financial development, fostering long-term economic growth, for investment through supporting small business start-ups as well as invest in productive domestic projects.