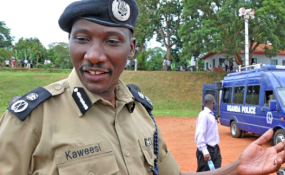 Photo: Daily Monitor
opinion
By Crispin Kaheru
So, what if the late assistant Inspector General of Police Andrew Felix Kaweesi was taking his children to school, or worse yet, taking his lovely wife to the hospital to experience one of the most amazing and magical wonders of this world - giving birth, what then? Do these cold blooded assassins have any conscience? What kind of blood flows through their horrid veins, I wonder; it must be much greener and more smelly than foul bile.
He was treasured by many but yet loathed by some; it seems that is what charisma does to creatures that have dried raisins for balls; you want to take away power from the people in this country because you have none of your own. Sorry to bust your bubble but the more you lose yourself to this world the more your blood will become greener, filthier and drier in your veins.
It's a pity what's been happening in this country of late, Uganda seems to be dulling away by the second. First it was the Muslim clerics, then the Senior State Attorney, Joan Kagezi who was shot twice in the neck while her children were with her in the car. Then it was Mama Fiina's husband-Maj Muhammad Kiggundu - who was shot dead along with his body guard last November. Then, the massacre in Kasese happened - still not sure exactly what and how it happened, then came the death of a six-month-year old baby in Kawanda early last week - purportedly strangled by a housemaid, who took off to Koboko, only to be arrested after a few days.
There have been numerous reports of poisoning of innocent families, school children and so much more! How have we become as shameless as dare devils?
We are no longer slaughtering people at night, because may be we think the Lord above is not watching; now we have resorted to shooting our fellow human beings in broad day light.
How dare does one shower someone's child with more than 30 bullets as if we were celebrating his death-day?
What kind of society are we leaving behind for the next generation to inherit? Our children are living in fear of how tomorrow will be, "Will mummy come back home safely from work?" "I hope daddy arrives safely at his workplace, God please protect him." They are having sleepless nights wondering whether their parents will be safe and not end up like their classmates' father or mother, because they don't know how they will be able to live without them.
Violence in our society is on the rise. We all need to have a little more caution and conscience in the lives that we are leading now or else we might destroy one another until there are only skeletons left roaming in this country.
We need to protect ourselves in order to progress as a nation, both socially, economically and politically. In order to ensure our security and wellbeing, we need to be mindful of all our leaders, from the bottom to the top of the pyramid. Are they there to protect us or forsake us, to guide us or lead us astray, to fight with us or against us? Our society and economy have to advance, we need to move forward.
Violence has never really been the answer, has it? This brings me to the pending LC 1 and LC 2 elections; that are long overdue. I will still stress that taking us back to lining-up to elect our local leaders instead of secret ballot is archaic and preposterous. It is a recipe to inciting more violence in our society. Many people are already infuriated with the proposal; why do we want to enrage them further?
We all have a right to secrecy when it comes to voting our leaders, I personally wouldn't want to wake up in the morning to a gruesome and blood-spattered sight of my family, relatives or friends having been slaughtered, poisoned or showered with a million bullets because I decided to line up behind a preferred candidate X. Lining up to vote can only be one thing - disastrous. No one should have to live in fear of being slaughtered or murdered for doing a good thing like Kaweesi was doing, No way!
The Pearl of Africa better clean up its act immediately, and fast, before we all become wandering skeletons in our own land.
Mr Kaheru is the coordinator, Citizens' Coalition for Electoral Democracy in Uganda.