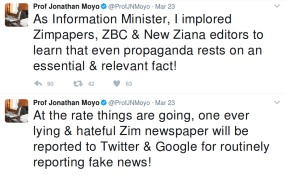 Photo: Jonathan Moyo/Twitter
THE war between the State media and a section of President Robert Mugabe's cabinet continued this past weekend with one livid minister charging a reporter while another described as "satanic" apparent threats in the Sunday Mail against his former wife.
Local government minister Saviour Kasukuwere, higher education colleague Professor Jonathan Moyo and empowerment minister Patrick Zhuwao accuse the public media of carrying out a vilification campaign against them at the behest of vice president Emmerson Mnangagwa's allies.
Mnangagwa is thought to be readying to succeed the 93-year-old President Robert Mugabe. The succession narrative claims Kasukuwere, Moyo, and Zhuwao - with the alleged backing of Mugabe's wife Grace - stand resolutely in the way.
But the vice president's faction in the ruling Zanu PF party reportedly controls the vast State media apparatus and often uses it to accuse his opponents of corruption and disloyalty to Mugabe.
Kasukuwere was last Friday reportedly restrained by Zhuwao as he charged a Herald reporter after an angry rant where he demanded that the publication "stops being silly and idiotic".
Two days later, the Sunday Mail led with a story revealing that Prof Moyo benefited from the government's command agriculture scheme, a "programme he has bitterly criticised on social media".
The minister and his wife were said to have received "fuel, maize seed, fertlisers and herbicides" under the programme and had produced "one of the best maize crops" in Mashonaland Central Province at their Elephant Trust Farm in Mazowe.
An unnamed source then warned that if it was established that Prof Moyo "did not indeed use the inputs as provided for under Command Agriculture or disposed of them in any other way, he could be investigated for abuse of State resources".
Threats satanic
The warning did not ammuse Moyo, who responded in a statement late Sunday, saying of the investigation threat - "very satanic! Nothing new. We have suffered this evil and cruelty before."
Prof Moyo said he was however, not surprised with the article, having discussed the command agriculture issue with Mnangagwa after a chance meeting at State House.
He said the success of their maize crop was down to his wife Betty who "is the farmer in the family (and) works very hard ... against untold adversities".
"It's very telling that despite the begrudging acknowledgment that out family farm has one of the best crop in Mashonaland Central, the forces behind Command Agriculture could not hide their evil intentions to 'investigate' this farm 'for abuse of State resources'.
Prof Moyo rejected the implied suggestion that he should not cricitise State media misrepresentations about the success of the programme because he was a beneficiary.
"To say a policy beneficiary can't criticize the policy is as moronic as saying a patient can't criticize a hospital where they get treated," he quipped on Twitter.
Admitting that his family benefitted under the government programme, Moyo however said; "somebody should tell these evil command fellows that the whole deal is a contract governed in terms of contract law".
He refused to be silenced making clear that; "for the avoidance of doubt, I stand by everything I have said about the unanswered and very serious questions about poor implementation of Command Agriculture and about the folly of public media lies that the government has adopted a Command Economy.
"No amount of vilification will intimidate me to move from truth to lies."
He added; "I hope that by making me (their) lead story ... the Sunday Mail and its handlers are not imagining that they can hide the sobering facts about Command Agriculture ...
"... including that fact that the expected average yield ... Mashonaland Central is two tonnes per hectare, far less than the targeted five tonnes.
"Too many farmers did not get the required inputs, and when they got any, it was not on time or the inputs were not sufficient as per the contract."