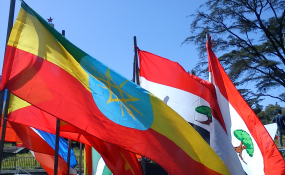 Photo: Soman/Wikipedia
interview
By Homa Mulisa
Considering the potential, Ethiopian Diaspora has to play a key role in developing their country and alleviating poverty, entailing to the fact that they should be encouraged to do so. With this view, The Ethiopian Herald has recently held an exclusive interview with Demeke Atinafu, Diaspora Affairs Director General at the Ministry of Foreign Affairs regarding the Diaspora's involvement in their country's development and how the government is working to exploit this untapped potential. Excerpts:
According to your statistics, how many Ethiopians are there in the Diaspora, particularly, in the US, Canada, Europe, Middle East and elsewhere?
The mapping of the Ethiopian Diaspora was started in 2008 and is progressing well. It is estimated that more than three million Ethiopians and persons of Ethiopian origin are residing in different regions of the globe - more than one million in the Middle East, more than 600 thousands in Africa, half a million and more in North America, and the rest in Europe, Australia and Asia.
How is the government of Ethiopia working to encourage the Diaspora to actively take part in the ongoing social, economic and political life of their country of origin? What are the instruments put in place?
Having recognized the immense and untapped potentials of the Diaspora for fostering socio-economic development, a host of policy and institutional arrangements are embarked to effectively and efficiently mobilize and facilitate their productive participation and engagement.
Proclamation (270/2002) set to provide with certain rights to be exercised by foreign nationals of Ethiopian origin with the aim to entitle them to various rights and privileges by lifting legal restrictions imposed on them when they lost their Ethiopian nationality, and hence creating a legal framework whereby they contribute to the development and prosperity of their country of origin.
The Proclamation provides important rights and privileges like, waiver of having an entry visa or residence permit to live in Ethiopia; right to be employed (in non-political and non-national security institutions) without a work permit; entitlement to the coverage of the pension scheme; right to be considered as domestic investors to invest in Ethiopia among others.
In addition there is a guideline to establish and operate foreign currency account for Non-resident Ethiopians and persons of Ethiopian origin that permits, fixed (time deposit) account, interest bearing account with minimum maturity period of three months, current (demand deposit) account; non-interest bearing savings account and non-repatriable birr account; can be used for any local payments; earning double of the minimum interest paid for depositors in local currency.
The other important thing to note is the provision of directives to construct and own residential houses. The directives are aimed at further strengthening and bolstering Diaspora's emotional ties and connection with their country of origin, which is also believed to spur and encourage Diaspora domestic investment and stimulate them to initiate other ways of engagement. So far eight regional states and two city administrations have issued directives to entitle the Diaspora to access land for the construction of houses.
There is also a privilege of access to bank loans and credit facilities provided for Ethiopians living abroad. The Development Bank of Ethiopia provide medium and long term loans for investment projects in commercial agriculture, agro-processing, and manufacturing industries. In addition, the privately owned Abay Bank is catering special Diaspora mortgage loan programme.
Regarding institutional arrangements, the Ministry of Foreign Affairs as mandated by the law is coordinating Diaspora engagement at national level and is responsible for ensuring the implementation of the Diaspora policy. At twenty federal offices which are directly relevant to the Diaspora engagement, Diaspora contact persons are assigned at the capacity of team leader and these offices have begun designing and implementing their own Diaspora focused plans since year 2006.
At all states, Diaspora affairs coordination offices are established and have begun designing and implementing Diaspora-focused plans. A common forum comprising of the regional and federal Diaspora Affairs Offices has been established, and is conducting a quarterly consultative meetings to review, monitor and evaluate the progress of implementation of planned activities. This has enabled the Ministry of Foreign Affairs to lead the activities of other offices in an integrated way, ensuring continuity and accountability. Besides, senior diplomats are assigned to missions/embassies where large Ethiopian Diaspora are residing exclusively to handle the Diaspora issues.
In relation to the government's plan of expanding the manufacturing sector, how do you see the participation of the Diaspora?
Answer: The Diaspora are encouraged to participate directly or in collaboration with domestic investors as well as foreign investors in manufacturing sector. They are also encouraged to invest in developed industrial parks individually or through joint ventures. Arrangements such as Franco Valuta and domestic bank loan access are available for Diaspora promoted projects in priority areas like mechanized agriculture, manufacturing and agro-processing. According to statistics of the Addis Ababa Diaspora coordination office, there are 34,697 licensed Diaspora projects worth more than 336 billion birr. Accordingly, more than five thousand projects went operational, of which 500 are in the manufacturing sector.
More than 2,700 Diaspora licensed projects went operational in states, which worth more than 63 billion birr and generated more than 271,848 jobs. This clearly indicates that Diaspora engagement in investment sector is overwhelmingly concentrated in national capital city, and hugely skewed towards the services sectors.
How do you appraise the current involvement of the Diaspora in terms of knowledge and technology transfer? Is it satisfactory?
The participation of professional Diaspora in knowledge and skill transfer is encouraging, despite the lack of central registry at institutional and national level regarding their initiatives.
A commendable new trend is emerging among professional members of the Diaspora to contribute in knowledge sharing and technology transfer in an organized way, and I will discuss with you a few of selected such professional organizations.
The first is the Ethiopian Science, Technology, Engineering, and Mathematics (STEM) Network in North America, an Informal Network of academics and professionals of Ethiopian origin and other friend of Ethiopia in the United States and Canada.
The objective of the group is to help applied science and engineering education, practice in Ethiopia through teaching, sharing research and development experience, and gathering material and financial resources.
While the group was established as a grass root network of professionals interested in giving back to the homeland, it has gradually established strong working relationship with the Adama and Addis Ababa Science and Technology Universities, the Ministry of Science and technology, and the Ethiopian Permanent Mission to the UN in New York City.
The Ethiopian North American Health Professional Association (ENAHPA) founded 1999, by Dr. Asfaw Engeda with the objective of improving access to quality health care in Ethiopia. In 2003 during its inaugural mission to Ethiopia, Dr. Asfaw and his team performed the country's first open-heart, cardiac pacemaker, and laparoscopic cholecystectomy operations. Since then the association has conducted more than 40 missions to Ethiopia, performing nearly 3,000 procedures.
Furthermore, ENAHPA has provided instrumental support in improving the medical and educational infrastructure, including presentation of the first telemedicine conference in Ethiopia, the establishment of surgical skills laboratories at Addis Ababa and Gondar universities, the development of emergency medicine residency training and first responder/allied health education programs at Addis Ababa University and St. Paul's General Hospital with the procurement of a medical rescue ambulance.
In 2004, it collaborated with the Christian Children's fund of Canada to establish Community-Centred Holistic HIV Care and implemented the first free major anti-retroviral drug treatment distribution program in Ethiopia. An outreach program to HIV orphans was created with a local grass roots organization, and also partnered with the Clinton foundation to create a paediatric HIV maternal Child health centre in Hawassa - a primary level hospital managing high-risk birth and complex patients. As a result, numerous Ethiopian Physicians, nurses, and allied health care professionals have been trained through ENAHPA's education programs.
The other is the Global Knowledge Exchange Network (GKEN) established by professionals living in UK to help improve the quality of higher education institutions in Ethiopia. It is a voluntary-based organization comprising more than 1,600 members who are seasoned professionals (academics, researchers & practitioners) and high level experts working for universities and industries in Europe and USA, who provide their time 'in gratis' as resource professionals to advise, coach and mentor upcoming Ethiopian professional staffs and post-graduate students in their respective disciplines.
In 2014, GKEN took a big step and embarked on a unique initiative namely the: Ethiopian Doctoral and Masters Academy (EDMA) and currently more than 300 research candidates are registered and being co-supervised and mentored at Jimma, Bahir Dar and Makalle Universities by 90+ EDMA professional volunteers.
Since its inception in 2011, highly-experienced international scholars and practitioners affiliated to the GKEN have supported 152 Ethiopian scholars and educators to adopt best practices in research and teaching through the establishment of an academic and post-graduate mentorship programme. Accordingly, more than ten Ethiopian Academic institutions have signed a collaborative MoU with EDMA and GKEN.
Ethio-American Doctors group established to bring world-class hospitals and related healthcare and educational facilities to Ethiopia and the region, including but not limited to clinics, diagnostic centres, and referral offices, educational and training institution, staffed with equally specialized physicians with the capability and capacity to deal with both the severity volume of medical needs in the country.
Its objectives include providing medical education to medical doctors, such as specialized residency and fellowship programs, and to allied health workers, such as nurses, biomedical engineers, by establishing training programs for medical doctors and allied health workers and conducting and participating in medical research in collaboration with other international institutions in areas that are relevant to Ethiopia and the surrounding region among other.
Likewise, Ethiopian International Professional Support for Abay (EIPSA), whose objective includes protecting Ethiopia's national interest on transboundary water courses in accordance with internationally accepted principles, providing professional support and assistance in the field of engineering, agriculture, environment, economics, law and transboundary water management through cooperation with the National Committee for the Coordination of Public Participation on the Construction of the Grand Ethiopian Renaissance Dam, establishing a database on Nile related information and research based knowledge and providing comprehensive, informed and unified information regarding Ethiopia's position and rights on the use of the Nile; its views on the principle of shared use of the water and aspects of construction of the dam and its use and reflecting them via national and international media among other efforts.