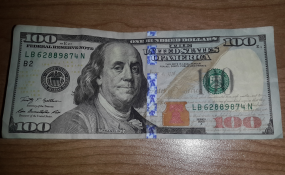 Photo: Jerry Chifamba/allAfrica
Cash-strapped Zimbabwe is trying to stop banks importing high-denomination US dollar bills - and that means you shouldn't see $100 notes in banks or supermarkets, state media is reporting.
With some banks now only giving customers their money in 'bond notes', the special-to-Zimbabwe paper bills introduced last November, the deputy governor of the central bank Kupukile Mlambo has told the Sunday Mail that "no-one is importing the 100 US note."
The reason? High value notes are easy to take out of the country because they take up less room, according to the report.
President Robert Mugabe's government still insists that Zimbabwe's shortages of hard cash are less to do with the lack of production across the economy and principally due to locals - and foreigners - "externalising" hard cash.
Mlambo was quoted as saying: "We don't want to see them (100 US notes) actually and we have discussed with the banks and they have agreed... If you see [them], it's maybe because someone went to the US and came carrying them."
"Banks are not importing 100, even 50 US notes," he added in an interview with the paper.
With bond notes (and the bank accounts stuffed with them) arousing suspicion, some shops are now offering customers three different prices for the same goods depending on the way they want to pay.
Meantime some Zimbabwe banks are now allowing customers to withdraw up to 150 US in a single transaction, News24 has learnt. There's just one catch: the money is all in 2 and 5 denomination bond notes.
News24