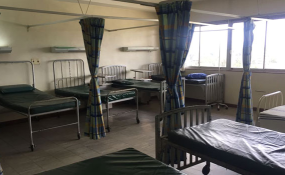 Photo: Capital FM
By Itodo Daniel Sule
Lokoja — Kogi State government on Tuesday said that proactive measures were being put in place to prevent any occurrence of cerebrospinal meningitis in the state.
Special Adviser to the state governor on Health Matters, Dr Ahmed Attah, in an interview in Lokoja said the Ministry of Health was working closely with the public health department and the Primary Health Care Development Agency
to sensitise the public on the health emergency.
"We are very much aware of the current health emergency in the north west,precisely Sokoto State where about 21 people died due to cerebrospinal meningitis.
"For us, the most critical thing is efforts being put in place towards sensitization and awareness creation because for meningitis, prevention is easier and better than cure.
"What we want the people to do in terms of the right attitude and practice is by ensuring that there is cross ventilation and that there is no over crowding in their places of rest especially during sleeping hours".
"Essentially, awareness creation will come up soon in terms of radio messages, jingles and televisions commercials to create awareness", he said
He said apart from awareness creation, efforts would also be made to immunize the people against meningitis, adding that the ministry was currently putting together plans which would soon be unveiled.