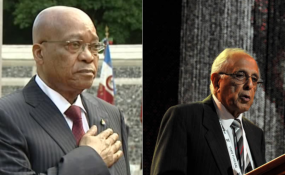 Photo: allafrica.com
Anti-apartheid struggle stalwart Ahmed Kathrada never officially received a response from President Jacob Zuma after asking him to step down, former deputy president Kgalema Motlanthe said on Wednesday.
"As you are aware, this letter went without any formal reply," Motlanthe told a marquee filled with mourners.
He was reading a eulogy on Kathrada at Westpark cemetery on Wednesday morning, ahead of the 87-year-old's burial.
Motlanthe said Kathrada's legacy was anchored on humility, democracy, non-racialism, non-sexism, and justice.
"These principles, which comrade Kathy lived for through his life were not just hollow statements," Motlanthe said.
"It would be disingenuous to pay tribute to the life of Comrade Ahmed Kathrada and to pretend that he was not deeply disturbed by the current failure of post-apartheid politics.
This led him to write his letter to Zuma. It followed he Constitutional Court's ruling on Zuma benefiting unduly on security upgrades made at his Nkandla homestead; former Finance Minister Nhlanhla Nene being sacked from his job, which sent the rand plummeting; and current Deputy Finance Minister Mcebisi Jonas publicly announcing that the Gupta family had offered him Nene's job.
Motlanthe then read extracts of the open letter, which Kathrada wrote on April 2 last year. In it, he expresses concerns about South Africa's state of affairs and questions Zuma's position on the matters.
'What he stood for never changed'
"I have always maintained the position of not speaking out publicly about any difference I may harbor against my leaders, and my organisation, the ANC. I would only have done so when I thought that some important organizational matters compel me to raise my concerns," he wrote.
"Today I have decided to break that tradition. The position of president is one that must at all times unite this country behind a vision and programme that seeks to make tomorrow a better day than today for all South Africans.
"It is a position that requires the respect of all South Africans, which of course must be earned at all times.
"Is it asking too much to express the hope that you will choose the correct way, on the gaining momentum, to consider stepping down?" Motlanthe read.
When he had finished, he received a standing ovation.
After a slight pause, Motlanthe explained he was quoting Kathrada's letter at length because he wanted to make a point that "for better or for worse, what he stood for never changed".
He found South Africa's current leadership wanting and had no hesitation in calling for Zuma to step down, Motlanthe said to more cheers and applause from the audience.
He described Kathrada as an individual who would not compromise on superior human values.
'No intention' to respond
Kathrada's letter was his re-affirmation of the courage, humility and generosity of freedom fighters of the past, who had embraced and encouraged self-reflection.
"The ANC itself may disappear from the face of the earth if it fails to embrace the culture of self-reflection from time to time, concerning its character and inner soul as a governing party.
"Comrade Kathy himself deemed a critique of current democratic government a precondition for the sustenance of our democracy," Motlanthe said.
On Wednesday morning, before funeral proceedings began, Zuma announced in a statement that he would not attend Kathrada's funeral, in compliance with the family's wishes.
Deputy President Cyril Ramaphosa was tasked with leading the proceedings from government's side.
ANC secretary general Gwede Mantashe told reporters afterwards that there was no intention for Kathrada to receive a response to his letter because his audience was the public.
"It was an open letter in the public eye and the public responded. If you write me a private letter, I'll respond to that letter back to you," he said.
News24