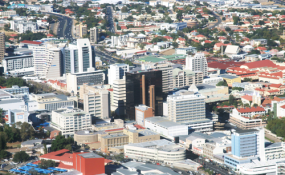 Photo: New Era
ALTHOUGH plastic is easily available in Namibia, its impact on the environment, agriculture, marine life, livestock and wildlife is hardly stressed with urgency.
This was said by Elize Shakalela, an independent environmental legal consultant and Miss Earth Namibia 2016 during the recent launch of a campaign for a plastic-free environment in Namibia in Windhoek.
Other speakers at the event held at the Namibia Scientific Society were Chris Brown, CEO: Namibian Chamber of Environment and Liina Ndilipo Namupala, member of parliament, deputy chairperson: standing committee on human resources and community development.
"The concept of a plastic-free environment campaign was birthed in August 2016 during my visit to the northern part of Namibia when I saw a herd of cattle feeding on improperly disposed plastic bags. It is known that improperly disposed plastic bags have previously caused death of many livestock. This problem is likely to increase even more now, due to drastic changes in climate," Shakalela said.
She said that due to drought, it is even more critical for Namibia to implement plastic management measures, in order to safeguard livestock and reduce landfill waste.
"It is noted that the worst impacts of improper plastic disposal is often observed in the ocean, making up to 95% of rubbish. Based on this, in 2005 the United Nations Environmental Programme (Unep), an agency of the United Nations which primarily coordinates environmental activities and assist developing countries to implement sound policies and practices, made a call to promote the global ban of plastic bags, particularly to curb marine littering.
"Although plastic bags are marked with words such as "reduce, reuse and recycle", most of them are improperly discarded after a single use. Research indicates that plastic bags can persist for up to 1000 years in the environment and only degrade thereafter," she said.
The plastic-free environment campaign for Namibia is an initiative in partnership with the Namibian Chamber of Environment (NCE) and avid environmentalists led by Sophia Swartz (chairperson of the parliamentary standing committee on natural resources management), PDK (one of Namibia's top musical groups), Shakalela and The Dogg (musician and campaign awareness focal person).
Through collaboration with relevant stakeholders, the campaign aims to discourage the use of plastic bags by developing mind changing educational strategies and to stimulate discussions around enacting legislation for a plastic-free Namibia.