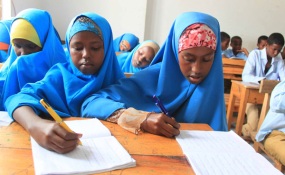 Photo: daily Nation
By Manase Otsialo
Suspected Al-Shabaab militants have stolen a vehicle belonging to Kenya Power in Elwak town, Mandera County.
Security agencies, according to Mandera South Deputy County Commissioner Peter Karanja, are pursuing the terrorists who drove the vehicle towards Somalia after they stole it on Thursday at around 6.20pm as its driver was coming from a solar electricity plant.
"Two armed men emerged from the thickets and waved down the vehicle before pulling out the driver who was the only occupant as they took control," he said on phone.
Mr Karanja said the two carjackers drove through Elwak town without anyone noticing the unfamiliar faces behind the wheel but in less than ten minutes alarm was raised.
"They had to come through town to head to Somalia which looked normal until alarm was raised and our security team of KDF, both regular and Administration Police are pursuing them," Mr Karanja added.
Mr Karanja said Kenyan authorities have alerted Somalia National Army (SNA) inside Somalia to help in the operation.
He said the incident had caused panic in Elwak town as businesses closed.
The incident comes barely a day after the State extended dusk to dawn curfew only reviewing timings.
The three month-curfew extension now will be starting at 7pm and end at 5am to allow time for prayers in Mosques.
"People have closed earlier and they didn't wait for 7pm when the curfew starts out of fear of what happened," he said.
Mr Karanja denied claims that the hijackers are part of an Al-Shabaab group allegedly planning an attack on Elwak Somalia.
"The reports we got last week that Al-Shabaab planned to takeover Elwak Somalia were untrue and have nothing to do with this incident here," he said.
He said the attackers were sighted some 40 kilometres into Somalia far away from Elwak.