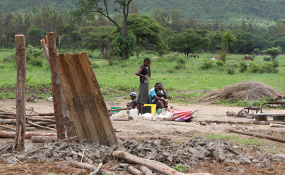 Photo: New Zimbabwe
interview
What started as a normal year for farmers settled at Arnold Farm in Mazoe district in Mashonaland Central province turned out to be a "national disaster" with just few months left for them to harvest their maize. Nearly most of them were anticipating a bumper harvest following good rains in the area.
What hit them shocked many as they were 'illegally' and forcibly removed from a place they had called home for the last 17 years and dumped in the jungle along Mvurwi-Concession road.
Our reporter, Robert Tapfumaneyi (RT), travelled to Mazoe and spoke to secretary of the Arnold Farm Residents Association, Innocent Dube (ID), to get the story behind the evictions.
RT: For how long have you been staying at Arnold farm and is this your ancestral land?
ID: We have been staying here since the days of the jambanja-the 3rd Chimurenga when we drove the white commercial farmer by the name Kennedy out of this farm, which is 17 years ago.
RT: My understanding is that most famers who occupied farms during that time were given offer letters by the Lands Ministry; what's your position here?
ID: We have been trying to get offer letters from the ministry for the past 17 years but they have just been promising us; we have filled in countless forms but nothing has materialised.
RT: I understand this is not the first time that the ministry officials have tried to evict you from the farm.
ID: Yes, soon after the 2013 general elections, that was early 2014, some policeman came and started destroying our homes, and then five of our leaders at that time filed a court application seeking an order to stop ZRP from doing that and it was granted.
T: Why then didn't you move away from the farm because these were clear signs that you were not wanted here?
ID: The ministry officials gave us false hope because they gave the five leaders who were representing us that time offer letters in January 2015, and we thought the process was now underway. The court order also specified that we were not supposed to be evicted from Arnold Farm without being given alternative land to farm.
RT: What has been going on since the five leaders were given offer letters?
ID: No harassment from the police or ministry officials and for us as farmers it was business as usual until this year 2017.
RT: This time around 2017 did they give you notice to leave the farm?
ID: Yes they came and spoke to us and said we must leave the farm.
RT: Did they say why you must leave the farm?
ID: I don't need to go zig-zag or round and round, yes they said this land belongs to the First Lady, we don't want you to be chased away, so please leave now while you still have time, we don't want you to lose your properties and that was on Monday 20th March. Then on the following day, officials from the ministry came on a vehicle registration number GR LL153 and started pegging the farm.
We then rushed to the Zimbabwe Lawyers for Human Rights seeking assistance on the way forward. Then they said no, if they are just pegging there is nothing wrong with that, the ministry of lands has a right to peg so wait for their action.
RT: Why didn't you ask the ministry officials why they were pegging the land?
ID: I personally went to them and asked them why they were doing this and what exactly they were doing. They said we are pegging for the First Lady to do her projects, but don't worry we are just pegging this side only. But then later they said no we are taking the whole farm because she now wants 1.400 ha, that is the whole of Arnold Farm and part of Sertic Farm.
RT: When did the ZRP come to demolish your homes?
ID: On the 23rd March the police came and started demolishing our homes, telling us that this land belongs to the First Lady, go away. People were forced into lorries and dumped along the Mvurwi road near Riverside Farm and that's when we approached the Zimbabwe Lawyers for Human Rights again and they made an urgent court application.
Relief was granted on the 24th March, the province was saved with that order but they never complied. On the 25th March, the police were still demolishing our homes and we showed them the court order but they said they were not going to stop until they had been told to do so by the people who sent them.
RT: Did you ask who sent them?
ID: They were not hiding, it is the First Lady, and she wants to expand her empire.
RT: How many families have been affected?
ID: Households only are 143 which is about 700 people.
RT: Did you by any chance ask what projects the First Lady wants to do at a place you call home?
ID: They said she wants to do cattle ranching because she has a dairy farm which is Alpha and Omega.
RT: You took the farm from the white commercial farmer buy whatever method, why don't you use the same method to defend your land?
ID: We are now fighting the state or the First Family with all resources at its disposal, they are using armed police and there is nothing much we can do but just to approach the courts.
RT: Now that again the High Court has granted an order to stop the police from evicting you or to be involved what is your way forward?
ID: We have also decided to engage the intentional community and SADC because this is a powerful family in the land.