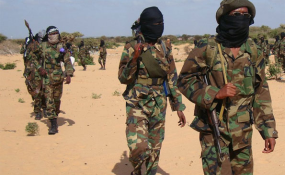 Photo: Daily Monitor
A Somali official says Ethiopian forces have abandoned Elbur town in the Galgadud region, allowing Al shabaab fighters to enter soon afterward on Monday morning.
The fall of Elbur was confirmed to Radio Shabelle by Nur Hassan Gutale. He said the AU forces pulled out of the district, without noticing to the local government administration.
"Today, Ethiopian forces have moved out of their fixed bases in Elbur, and then Al shabaab has reoccupied the town smoothly, without battle," said Gutale.
Al shabaab fighters in fighting vehicles poured into Elbur, and seized the city's Police station and the administrative headquarters, according to the commissioner.
Until now, the reason for the withdrawal is unclear, however experts believe it is connected to domestic unrest relating to the Oromo protests in parts of Ethiopian since last year.