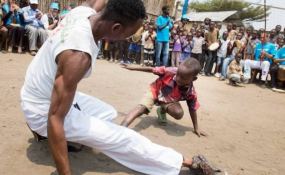 Photo: Stefano Toscano/IPS
By Fabíola Ortiz
Rio De Janiero, Brazil — On the earthen floor, to the sound of a single-string percussion instrument called a Berimbau, Congolese children stand in a circle practicing rhythmic movements with their arms and feet and chanting.
They are doing Capoeira, a Brazilian martial art that merges the practice of sports, acrobatics, music and popular culture.
This Afro-Brazilian cultural practice, simultaneously a fight and a dance, functions as an affirmation of mutual respect between communities.
It was started in Brazil by the descendants of African slaves, and in 2014 Capoeira was recognised by UNESCO as an Intangible Cultural Heritage of Humanity. This Afro-Brazilian cultural practice, simultaneously a fight and a dance, functions as an affirmation of mutual respect between communities and individuals promoting social integration and the memory of resistance.
Capoeira has been used as a powerful tool to help demobilized children and adolescents from armed groups and victims of violence in the Democratic Republic of Congo (DRC). With the practice comes self-confidence, emotional strengthening, community-building, overcoming gender differences, and reducing inequalities.
Independent Brazilian journalist Fabíola Ortiz and photographer/videomaker Flavio Forner intend to visit in loco how Capoeira is being used with Congolese children in North Kivu.
Both media professionals recently launched an in-depth reporting project that aims to report on the benefits of this martial art to heal trauma. The duo plan to immerse themselves in the universe of Brazilian Capoeira in the DRC.
Forner and Ortiz are dedicated to the coverage of development and human rights. They believe in the role of independent in-depth journalism to promote public debate, encourage change and keep the UN Sustainable Development Goals on the global agenda.
"There is a need for groundbreaking and innovative storytelling approaches to report on conflict and trauma. Information has a powerful role in defusing tension, reducing conflicts, and contributing to the healing process of traumatic events," said Ortiz.
Independent journalism may act as unifier in a polarized society and has a pivotal role in conflict prevention, management and resolution, they believe.
Capoeira in North Kivu
Twice a week, girls at the Heal Africa hospital in central Goma, North Kivu's capital, are taught Capoeira. Boys at the Transit and Guidance Centre (CTO) run by the Concerted Action for Disadvantaged Young People and Children (CAJED) also learn this martial art. The CTO is a place for helping the reintegration into society of child victims of violence and who have been demobilized from armed gangs.
This centre for vulnerable children directs its efforts towards demobilizing, supporting and reintegrating children into their families. Partnering with UNICEF since 2003, CAJED has hosted more than 11,000 children removed from armed groups of the DRC.
Since August 2014, around 40 children join Capoeira classes on a weekly basis. With the support of UNICEF, the Brazilian Embassy in Kinshasa, AMADE-Mondiale and HSH Princess Caroline of Monaco, this initiative led by a Brazilian Master Flavio Saudade introduces children to the practice.
In a war-torn country with ethnic roots and embedded with commercial interests, it is crucial to rebuild community ties and restore a culture of peace.
"Capoeira is a social technology developed in Brazil from a cultural tradition of African origin. Its use in conflict zones to reduce violence is a recent phenomenon with encouraging results," stressed the Brazilian Ambassador to the D.R.C Paulo Uchôa Ribeiro when the initiative started in 2014.
So far, the initiative has benefitted around 3,000 children, according to Flavio Saudade, a Child Protection Specialist at UNICEF and a Capoeira master.
"We are trying to address a serious problem: the forced child recruitment. Today I see that Capoeira has a great mission, the one of building a society free of so many violence. We hear testimonies from children who went through forced military trainings and were obliged to kill their parents and commit grave crimes," said Saudade.
Instead of carrying an AK-47 rifle, Congolese children are now taught how to play a Berimbau. "How many lives we might save when we teach them how to play an instrument rather than shooting a weapon," he said.
Political Instability
The conflict in the DRC officially ended in 2002 with a peace agreement, but this war-torn country with 77 million people in Central Africa still struggles to heal the wounds from armed clashes that perpetuate to the present day. Around six million people lost their lives. The current fighting continues to be characterized by violence and brutality against civilians, causing waves of internally displaced persons. The conflict generated a mass exodus of 1.7 million people.
Despite being one of the richest countries with diamond, gold, copper, cobalt and zinc, the DRC is among the world's least developed nations. Its abundant land, water, biodiversity and minerals have fueled longstanding tensions. The legacy of years of atrocities, instability and widespread violence resulted in more than half of its population living below the poverty line.
The instability in the country has awaken recently with Joseph Kabila's presidential mandate that came to an end last December 2016, after 17 years in power. Kabila was to lead a transitional government until elections due to be held by the end of this year. However, the opposition has accused the government of undermining efforts to offer a peaceful exit.
The discontentment arose in the face of the failure of political negotiations that was mediated by the Catholic Church in the DRC.
Last March 31, the Security Council extended the mandate of the United Nations mission in the DRC for another year but reduced the number of troops. In a resolution unanimously adopted, the 15-member body decided to keep the UN Organization Stabilization Mission (MONUSCO) until March 2018.
*To learn more about the independent in-depth reporting project led by the Brazilian journalist Fabíola Ortiz and the photographer Flavio Forner, visit their website: www.capoeiracongo.com. They are also on Facebook and Twitter.