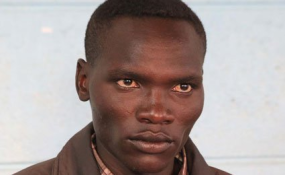 Photo: The Nation
By Mwangi Ndirangu
A herdsman has been charged with the murder of Laikipia rancher Tristan Voorspuy.
Mr Samson Lokayi, alias Tepatuk Kachartat, pleaded not guilty to the offence and the court ordered that he be detained at Nanyuki GK Prison until May 10 when his bail application will be determined.
BOND
The charge sheet stated that on March 5 at Sosian Ranch, together with others not before court, Mr Lokayi murdered Tristan Voorspuy.
The prosecution opposed his bond application, arguing that he was likely to skip court because he has no fixed residence.
Lokayi had argued that continued detention was a violation of his constitutional rights since police were to blame for failing complete investigations on time.
His lawyer Maobe Maotsetung protested.
REPORT
"When the accused appeared before a lower court mid last month, the prosecution had asked the court to detain him so that they could visit his home in Baringo County and I believe they know where he lives," he said.
"Now he is being punished simply because he is a pastoralist who keeps on migrating in search of pasture."
But Justice Kasango ruled that he could only determine if to grant bail to the accused once a pre-bail report is presented.
The court directed that probation office prepare a report on the accused to be tabled before court on May 10.
SHOOTING
Mr Lokayi, 25, has been in police custody since his arrest on March 10, five days after Mr Voorspuy, the co-owner of Sosian Ranch, was shot dead.
He was shot as he rode on a horse to inspect some sections of the ranch that had been destroyed by migrating herders.
The suspect has appeared in court twice but in both occasions, he has failed to take plea after prosecution asked for more time to wrap up investigations.
Laikipia North MP Mathew Lempurkel is also facing murder charges in connection with the death of Mr Voorspuy and the ODM legislator is expected in court on Monday, April 10 to take plea.