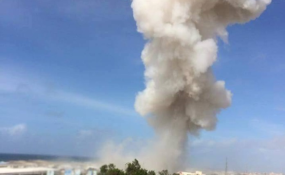 Photo: aljazeera
A loud explosion said to be a car bomb was heard in Somali capital Mogadishu on Wednesday noon, a day after a new security minister takes the oath of office.
According to the Somalia's Information Minister Abdirahman Omar Osman Yarisow, the blast occurred at a cafeteria outside the ministry of youth and Sports in Mogadishu.
A car with explosives detonated a Cafeteria outside the ministry of Youth & Sports in #Mogadishu - there are casualties
-- Abdirahman O. Osman (@engyarisow) April 5, 2017
No group has yet claimed responsibility for the car bomb attack in Mogadishu, but Police blamed Al shabaab for the bombing.
Developing story - More to come soon