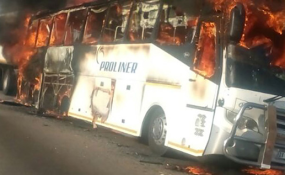 Photo: New Zimbabwe
By Freeman Razemba
A team of forensic experts from the Zimbabwe Republic Police has been deployed to assist in identifying 20 passengers who were burnt beyond recognition when a South Africa-bound Proliner bus they were travelling in sideswiped with a haulage truck and caught fire at Nyamatikiti River near Chaka in Mvuma District on Wednesday night. Government has since pledged to assist the bereaved families with $200 each towards burial costs and implored drivers to exercise caution on the roads.
At least 40 other passengers were injured and were taken to Mvuma District Hospital and Driefontein Mission Hospital. The bus had over 60 passengers on board, while the truck was laden with tyres when tragedy struck at around 7pm.
According to witnesses, more than 15 passengers managed to escape through the windows. Police said a team of DNA specialists and pathologists had since collected the remains, which it took to Gweru Hospital for identification since the bus had no passenger manifest.
The driver of the haulage truck is likely to be charged for culpable homicide since he is believed to be the one who encroached into the lane the bus was travelling in, police investigations have revealed.
Addressing journalists in Harare last night, Acting Local Government, Public Works and National Housing Minister Dr Obert Mpofu confirmed that scientists were already on the ground.
He said efforts were also underway to establish whether the bus had passenger insurance cover.
"Efforts are underway to establish details on the status of the bus insurance cover, particularly the Motor Insurance Pool.
"Should this be in place, the usual insurance provisions will apply," Dr Mpofu said.
The bus was travelling from Harare to Johannesburg when it sideswiped with truck at the river, about 20km from Mvuma.
"According to police reports, indications are that 60 passengers could have been on board.
"Out of the 60 passengers, 40 were hospitalised and about 20 perished on the spot and were burnt beyond recognition," he said.
Dr Mpofu said the accident had dampened the celebratory mood as it had happened at a time when the nation was geared for the 37th anniversary of independence.
"Whilst investigations on the cause of the accident are underway, the element of human error cannot be discounted from the casual factors of the accident.
"I urge all road users to exercise a high degree of caution as they travel especially during the holiday period ahead of us. Passengers on their part should contribute towards their safe travel by proactively expressing their displeasure to reckless drivers," he said.
He said reports of errant drivers should be made to the police manning roadblocks along major highways.
"On behalf of the Government and the country as a whole, I wish to offer my heartfelt condolences to the bereaved families.
"As a humble token of sharing in their grief, I do hereby invoke section 32 of the Civil Protection Act and accordingly offer assistance of $200 for each of the deceased.
"I wish the hospitalised a speedy and full recovery from their injuries. I urge us all to console the bereaved and assist them in their emotional healing. May the souls of the departed rest in eternal peace," Dr Mpofu said.
Meanwhile, the Passengers Association of Zimbabwe has sent a condolence message to the bereaved families.
PAZ president Mr Tafadzwa Goliati, said some of the highways especially the 897km Beitbridge - Masvingo - Harare-Chirundu highway were in dire need of rehabilitation to curb road carnage.
"The Passenger Association of Zimbabwe believes that road safety does not happen by accident, and will continue to advocate rehabilitation of road infrastructure, enforcement that is centred on promoting road users safety, continuous education of road users that will make adherence to road rules and regulations, medical service attending to road accident victims quickly within an hour and having environment that is conducive to travel," he said.
In August last year, more than 65 people escaped unhurt when a Proliner bus they were travelling in from South Africa to Harare caught fire near Featherstone along the Harare-Masvingo highway.ding. No casualties were reported.