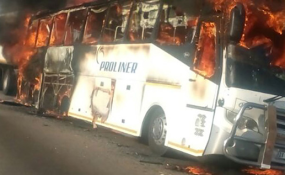 Photo: New Zimbabwe
Acting local government Minister Obert Mpofu says it will be difficult to identify the 20 people who were burnt beyond recognition when a South Africa-bound coach collided with a heavy truck.
"How and who is going to be buried where is going to be difficulty," Mpofu told reporters in Harare on Thursday.
A Proliner bus travelling from Harare to Johannesburg reportedly side-swiped with a haulage truck at Nyamatikiti River, 20 km from Mvuma along the Harare-Masvingo highway at about 1900 hours Wednesday night.
Police say 60 passengers could have been on board the coach and of these, 40 were hospitalised and while some 20 perished on the spot.
Addressing a press conference in the capital, Mpofu said with the little resources at the government's disposal, "scientists" from the ZRP were rapidly dispatched to the scene of the accident to try and identify the victims.
"I am told they (victims) were burnt beyond recognition," he said.
"The police will do everything they can to identify the victims but this a technical matter which I doubt they will be able to do."
The ministry's permanent secretary George Mlilo added; "It is going to be difficulty and it's a really serious challenge.
"I think the majority of the relatives will have to bear with us as the government won't go beyond what it can, but it will try its best.
"And the relatives that have lost their beloved ones have to bear with us."
Mpofu also said that efforts were underway to establish bus company's insurance cover.
"Should this be in place the usual insurance provision will apply but for now the government offers assistance of $200 for each of the deceased as a humble token," he said.