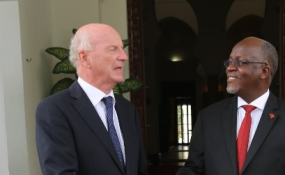 Photo: State House/Daily News
President John Magufuli has commended the European Union (EU) Ambassador in the country, Roeland Van de Geerna, for their commitment to support the country's industrial economy drive and development projects.
The support includes 500bn/- to be issued for development projects in the coming four years, which President Magufuli said was proof of good bilateral relations between the two.
He commended the EU when he held talks with Ambassador Roeland Van de Geerna who also pledged 1.2bn euros for industrial economy drive especially in the areas of agriculture and power generation.
"I am happy that our bilateral relations are pegged on key areas for Tanzanians, I assure you that the financial support will be well spent and bring out the expected results," said Dr Magufuli.
A statement issued by the Directorate of Presidential Communication, pointed out that the EU Ambassador praised President Magufuli's leadership in addressing issues of good governance and economic development initiative as he promised of the block's continued support.
Meanwhile, Mr Magufuli held discussions with the Israeli Ambassador to Tanzania, Mr Yahel Vilan, and expressed the country's commitment to extend bilateral relations between the two countries in avenues of investment, trade, tourism promotion and social services improvement.
To make it work, President Magufuli said his government decided to open an embassy in Israel and asked him to pass over his message to Israeli Premier, Mr Benjamin Netanyahu, on the need to see into possibilities of opening their embassy in Tanzania too.
"Let the bilateral relationship benefit our two countries' citizens, I am happy with the information that more than 200 tourists will soon fly direct from Tel Aviv to Tanzania.
I welcome investors as well," said the President. The Israeli Ambassador, Yahel Vilan and his entourage were impressed by the support during their tour whereas they met with a number of government officials and pledged construction of an Intensive Care Unit (ICU) at Benjamin Mkapa Hospital in Dodoma by the end of this year.