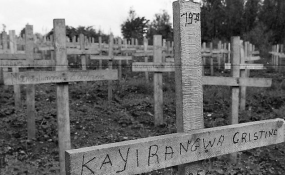 Photo: Corinne Dufka/HRW
By James Karuhanga
French President François Hollande should declassify all documents that reveal the role the French political and military establishment played in Rwanda in the run-up to and during the 1994 Genocide against the Tutsi, says the International League Against Racism and Anti-Semitism (LICRA).
LICRA, a France-based lobby, has asked Paris to make public all diplomatic, military, political and financial documents relating to France's actions in Rwanda between 1990 and 1994.
"There are a certain number of documents currently marked as 'defence secret' that should allow knowing everyone's role especially the role of France and maybe a number of officials," French lawyer and president of LICRA Alain Jakubowicz, told Radio France Internationale over the weekend.
"For me, it's not a question of judging anyone or carrying out a prejudiced trial for anyone but, precisely because they say France doesn't have any responsibility in this genocide, let's shade light on this. Let's open the files so we can know the truth of whether there was responsibility or not."
But Alain Gauthier, president of the France-based Collectif des Parties Civiles pour le Rwanda (CPCR), a rights group which has for nearly two decades pursued Genocide fugitives in France, says even as France is reluctant to declassify sensitive information, there is sufficient information that point to the complicity of the French government of 1994 with Habyarimana and his genocidal government, including diplomatic, financial and military complicity.
"Of course, documents that have not yet been declassified can perhaps tell us more, and we must ask for this declassification. But we already know a lot!" he told The New Times.
Last November, the National Commission for the fight against Genocide (CNLG) of Rwanda released a list of 22 senior French army officers that it says knowingly aided the planning and execution of the Genocide in which more than a million people were killed.
Rwanda's Prosecution requested their French counterparts for judicial cooperation to facilitate access to these serving or retired French military officials.
More than four months after, nothing has been done.
The Minister for Justice, Johnston Busingye, told The New Times that: "Rwanda's prosecution is currently investigating a number of French military and political leaders of that period (1990s) for possible roles, direct or indirect, in the genocide against the Tutsi.
"I am informed that the French side has not responded yet, but I hope they will do so since Rwanda has positively facilitated every French request for judicial cooperation."
Commenting on the same matter during a news conference earlier last week, the Minister for Foreign Affairs Louise Mushikiwabo, said "we haven't heard back from the French side. We are hoping that they are gathering information and getting ready to respond to us as it should be expected."
"After all, we believe that France, like Rwanda, believes in allowing justice to function."
Previously, CNLG executive secretary Dr Jean-Damascène Bizimana said it was within the Commission's mandate to undertake such research work to uncover the truth on what happened before, during and after the Genocide.
Bizimana maintains that during the 1994 Genocide, different French officials were involved, either as direct perpetrators or accomplices, and there is overwhelming evidence to that effect.
He said French officials, including envoys accredited to Rwanda, including Georges Martres (1989 to 1993) and Jean-Michel Marlaud (March 1993 to April 1994), were deeply involved in the Genocide preparation.
The CNLG has also shed light on the role of French military officers assigned to Rwanda during the 1990s.
One such officer is General Jacques Lanxade who was Special Chief of Staff of President Francois Mitterrand from April 1989 to April 1991 and Army Chief of Staff from April 1991 to September 1995.
According to Bizimana, between 1990 and 1994 the French army under Lanxade "played the role of a real occupation force, involved in serious crimes."
As supreme commander of the army, he said, Lanxade received reports of the then Rwandan army's massacres as well as its discriminatory and genocidal policy but he maintained increasing assistance by providing equipment, logistical and personnel, for training and development.
General Christian Quesnot, Special Chief of staff of President Mitterrand from 1991 to 1995, is another of senior French officers linked to the Genocide.
Others include General Jean-Pierre Huchon, deputy to General Quesnot from April 1991 to April 1993; Lieutenant-Colonel Michel Robardey; Colonel Gilbert Canovas; Colonel Jacques Rosier; and Colonel Didier Tauzin.