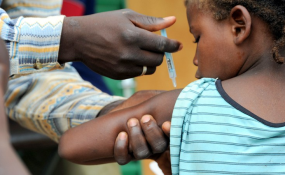 Photo: Premium Times
By Ojoma Akor and Shehu Umar
Some health officials in Zamfara State are making brisk business by selling free medicines provided by the Federal Government for the control of meningitis outbreak in the state.
Minister of Health, Professor Isaac Adewole made the disclosure during a visit to the state on Monday saying there are people selling vaccines and drugs provided for patients free of charge.
Our correspondent reports that some patients in Kaura Namoda Local Government Area told the state Governor Abdulaziz Yari that they were purchasing drugs using their pocket monies.
The governor said those responsible for the diversion of the drugs would be punished adding that he was disappointed to have first hand information from patients that they buy drugs themselves while on admission.
The state Commissioner for Health, Alhaji Sulaiman Gummi told Daily Trust that investigation has commenced into the case of drug mismanagement.
A father who took his son to Shagari clinic in the state capital, Gusau told our correspondent that "I was very surprised when one of the staff of the hospital offered to sell the drugs to me, which I believed were provided by the government. When I refused to buy he prescribed some drugs for me to go and buy, which I did at a medical store. I bought them at the rate of N450," he said.
Yari said "We will not close our eyes to allow anyone found wanting in the drugs mismanagement to go scot free and those found guilty would be made to face the full wrath of the law," he said.