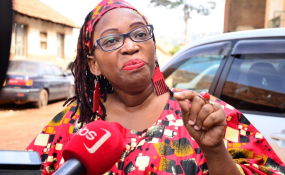 Photo: Alex Esagala/Daily Monitor
By Zurah Nakabugo
When Henry Kayiza prepared the charge sheet that the state used in court against Makerere University researcher Stella Nyanzi on Monday, he barely had any inkling that his word choice would spark an international mockery storm.
Kayiza, the head of Cybercrime Unit at Criminal Investigations Intelligence Directorate (CIID) headquarters, wrote in the charge sheet that on January 28, 2017, Nyanzi "made a suggestion or proposal referring His Excellency President Yoweri Kaguta Museveni as, among others, 'a pair of buttocks, which suggestion or proposal is obscene or indecent."
Soon after the court session, social media enthusiasts created a hashtag #pairofbuttocks, which went viral and was the subject of several memes mocking the president.
However, Henry Kayiza, 41, told The Observer on Tuesday that he was only doing his job. He said he picked the pair of buttocks phrase to illustrate how Nyanzi was publicly harassing President Museveni on social media with an intention of annoying him.
Kayiza helped to bolster the "cyber harassment" and "offensive communication" charges that the state preferred against the outspoken activist.
"We suggested 'cyber harassment' because she used vulgar language and abused the president on her Facebook page and also put photos there to annoy him," he said.
In a separate interview, the spokesperson for Kampala Metropolitan, Emillian Kayima, said the police does not concern itself with how ordinary people interpret the information that they include on their charge sheets.
"It's up to them if they want to make fun of [the contents of the charge sheet," he said. "They are grown-up people. We can't stop them from saying whatever they want."
MORE CASES AGAINST NYANZI
Kayiza said although they have so far charged Nyanzi with two offenses, she has more than 100 cases to answer because every vulgar post she has published on her Facebook page to annoy people has a separate file.
"Many charges against her are coming," he said.
Nyanzi was charged on Monday at Buganda Road court in Kampala for repeatedly posting criticism against the president, his wife Janet and family using language laced with vitriolic language, according to court documents.
Nyanzi, who recently started a campaign to buy sanitary pads for schoolgirls in a direct challenge to Janet Museveni, the education minister, who claimed the government had no money to fulfill her husband's campaign promise, denied the charges and was remanded to Luzira prison until April 25.
Kayiza explained that he suggested the charges, and the director of public prosecutions (DPP) preferred them, in line with the Computer Misuse Act 2011, Article 2, which says "a person who commits cyber harassment is liable, on conviction, to a fine not exceeding seventy-two currency points or imprisonment not exceeding three years or both."
Kayiza (who requested us not to use his picture because he is an investigator) graduated with a Bachelor of Information and Technology degree from Makerere University and later studied cybercrime investigations courses at different universities in Europe, Egypt and South Africa.
According to Kayiza, he joined police in 2007 as a cadet officer from Kabalye Training School. He was moved to Interpol and later, in 2010, he joined CIID-Cybercrime Unit as the head because of specialization in law enforcement and cybercrime.
Kayiza says his department deals with crimes committed using the latest technology, such as impersonation, cyber terrorism, ATM fraud, identity theft, forgery of signatures, email scams and cyber stalking.
He said Ugandans have reported to Police more than 1,000 cases since 2011, when the enforcement of the Computer Misuse Act began. The cybercrime unit mainly handles cases involving electronic fraud cases such as cybercrime harassment cases, offensive communication such as nude pictures, abusive language, threats, bank fraud and others.