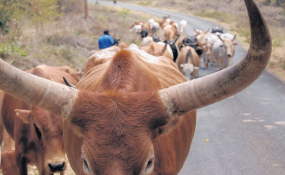 Photo: The East African
By Meddy Mulisa
Bukoba — A man has appeared before the Bukoba Magistrate's court for allegedly invading and grazing his livestock inside the government restricted area.
The suspect identified as Elikana Kafero (74), a resident of Kwaboba village, in Misenyi District was charged on Wednesday afternoon that he trespassed into Minziro Forest Reserve with a herd of 30 cattle and a Sheep with the intention of grazing them there.
State Principal Attorney, Hashim Ngole, submitted before Bukoba Resident Magis trate, Denice Mpelemba, that on March 31, this year the accused was found 650metres within the forest grazing the herd of cattle and a sheep, knowing very well that it was a criminal offence to do so.
"Your honour, the accused (Kafero), is a habitual offender because records indicated that he was once convicted of the same Criminal Case No 68/2015.
Furthermore, incidents of grazing livestock in the National Forest Reserves have been on the increase posing great dangers to the environment," said Mr Ngole.
In the ruling, Magistrate Mpelembwa passed a verdict that the convicted Kafero, should pay 500,000/- as a fine for grazing the livestock in reserved area, and another 500,000/- for unlawful entry into the restricted area and lastly 1m/- for destroying natural vegetation in the area.
The Magistrate also ordered that his livestock be forfeited to government as a warning to others who may harbour such intentions.
In another development, the Court also convicted seven other people and ordered them to forgo their 830 herds of cattle to Tanzania Forest Services (TFS) to 'compensate' for the costs its officials incurred to take care of them when they were confiscated in an operation known as "Ondoa Mifugo katika Hifadhi za Taifa. "
The operation that is still ongoing and loosely translates as 'remove livestock out of national reserves,' outlaws trespassing and grazing any livestock into the government restricted areas in order to preserve their natural resources.
It states that it is an offence contrary to Sections 26 (N) and 84 (1) of the Forest Act No 14,2002 to trespass and graze any form of an animal in the government reserved area.