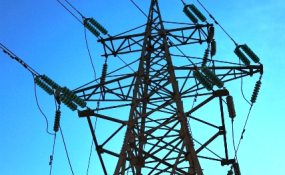 Photo: The Citizen
By Solomon Dibaba
Prior to 1990, Ethiopia's hydropower supply was less than 300 MW. Despite the estimated 45,000 MW hydropower potential, the country was weak in terms of exploitation and utilization of its renewable energy sources. However, according to Dereje Derebew's 2013 study entitled 'Ethiopia's Renewable Energy Power Resources, Potential and Development Opportunities', between 1990 and 2015, the country had 14 hydropower generating power schemes which produced 3,715 MW of electricity.
Up to 2005, the percentage of the population with access to electricity supply was extremely low standing six percent. World Development Indicators stated that only about 15 percent of the population lived in electrified areas.
Low level of access to electricity was a major barrier to economic development and provision of social services in rural towns and villages. As the investment inflow is gaining momentum through time, the demand for electricity is growing by 25 to 30% each year. The country's power coverage in the rural areas was far below the minimum. The country has therefore faced the challenges of meeting the ever growing demand of its people and flourishing industries.
According to Azeb Asnake, CEO of Ethiopian Electric Power, the recently inaugurated Gilgel Gibe III with electric power output of 1879MW will almost double the power supply of the country by 94 percent.
Built at the cost 1.5 billion Euros Gibe III is one of the major government investments in the energy sector. Prior to the construction of this power station, a number of international media companies came up with a propaganda barrage and misstates not only to discredit the project but also to connect it to the issues of environment and human rights. The others tried to lobby at the power corridors of development partners of the country to put pressure on Ethiopia, so that, the project would come to a standstill.
In another desperate attempt, a number of mainstream media outlets were broadcasting fabricated reports to halt Ethiopia's efforts to mobilize resources for the construction of the flagship project, GERD. However, with the joint efforts of the public and the government, GERD is already becoming a reality in the face of multifarious opposition by those who take Ethiopia's development as a potential threat to their well being.
This project has not only helped to foil the conspiracy of the commercial media that targeted the project but also ushered a new era in the development of renewable and carbon free energy for the country.
Over the coming years , apart from Gibe III, additional 8,950 MW will be generated from Gilgel Gibe IV and V as well as Genale Dawa III and IV.
Ethiopia's renewable energy resources are not limited to hydropower. Ethiopia has the potential of producing 7000 MW from geothermal and other energy sources: wind and solar energy.
The country has already identified 33 potential wind farm sites which could be developed in the future in four regional states of the country.
Regarding hydropower development, the country has already identified 15 potential hydropower investment projects including Tekeze II, Derbu I and II, Geba Iand II, Gojeb, Genale V, Beko Abo, Baro I and II, Mendaya, Tams, Dabus, Birbir, Gibe V, Gibe IV, Lower Dedessa and Wabe Shebele with a total output of 10,956 MW.
Ethiopia has not developed all these energy resources out of sheer selfish national interest. As it has been repeatedly notified by the government, Ethiopia has already considered sharing its clean energy resources with neighboring countries like Sudan, Djibouti, Kenya, Somaliland, South Sudan, Somalia and Tanzania. Some of these projects are already in progress to provide electric power to Sudan and Djibouti.
Ethiopia's national renewable energy programs is closely linked and mainstreamed with country's overall development programs including environmental protection, food security, health, development of the manufacturing sector. It also targets to provision of reliable energy sources for industrial parks and promotion of the construction and tourism sectors.
The electric power network that is currently being developed by Ethiopia is also linked with promoting regional economic integration in the east African region through railway and road transport connectivity.
Ethiopia's renewable energy development programs are planned in such a way that in the vicinities of all the power houses, development programs tailored to the needs of communities. It is also developed in such a way that community interests are ensured. Despite the propaganda rhetoric of some neo-liberal medias, schools, clinics and a package of community social service institutions have been built in the most outback areas adjacent to the power stations. All the power stations have effectively proved that Ethiopia is adhering and contributing to the fulfillment of international agreements pertaining to the protection of the global eco-system.
The construction of various substations for the supply of power to the neighboring countries will enable Ethiopia to transfer its practical knowledge on the management of electric power to the neighboring countries. Using this opportunity, Ethiopia is already producing electric power engineers, environmental protection specialists through industry university linkage.
With its energy resources, Ethiopia is integrating the East Africa region that will definitely benefit all the countries. Those skeptic who were suspicious of the country's energy development programs are considering and reconsidering to be provided with electric power supply. Ethiopia's major development programs in infrastructure, trade, agricultural development, education, rural development are all geared towards mutual development with Africa, particularly the Eastern part.
While the world grapples with the mercuric nature of oil prices and when issues of global warming have become a global agenda, Ethiopia is busy in developing a renewable energy program to make the nation free of carbon emissions by 2025.
The recently inaugurated Gilgel Gibe III is yet another indicator for country's commitment towards creating carbon free world. When oil rich countries like the Kingdom of Saudi Arabia are showing interest to participate in Ethiopia's renewable energy sector and when most of the East African countries are already considering purchasing electricity from the country, Ethiopia will continue to aspire higher to become the power tower of its region.