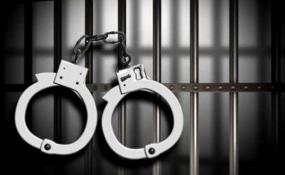 Photo: Leadership
A ZIMBABWE National Army officer was last week arraigned before Harare magistrate Lazini Ncube after he was caught in possession of unmarked raw ivory he intended to sell.
Big Makwizira, 27, was charged for contravening parks and wildlife general regulations together with Tafadzwa Ronald Dzokurasa, 24, of Matsveru village in Buhera.
The ivory weighed 0,625kg and is valued at $106.
According to the state allegations against the two arose on April 6 this when minerals and border control officers received information that the two were in possession of an unmarked elephant task.
They engaged a parks and wildlife official who posed as a buyer.
The parks official met the two and drove them in his vehicle saying he wanted to buy the task.
Court heard there was a road block at corner Rekai Tangwena and Coventry road which was being manned by highway patrol officers.
The vehicle was stopped and police officers conducted a search on the duo.
The tusk was recovered in Dzokurasa's satchel and the two were arrested after Makwizira attempted to flee from the scene.
Francesca Mukumbiri appeared for the state.