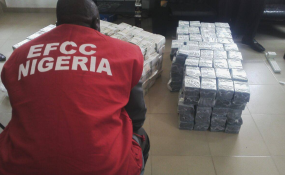 Photo: Premium Times
opinion
By Daniel Bulusson
Esq — "... Whistle blowers are the relatives, staff or friends of the blowee, who did not feel any blow when the blowee was blowing cash around." - Anonymous.
"The Whistle Blower Protection Bill, 2008 is a bill for an Act to provide for the manner in which individuals may in the public interest disclose information that relates to unlawful or other illegal conduct or corrupt practices of others, to provide for the protection against victimisation of persons who make these disclosures; to provide for related matters." - Senator Ganiyu Olanrewaju Solomon sponsored the bill.
According to the Federal Ministry of Finance (http://whistle.finance.gov.ng ), the whistle blowing programme is designed to encourage anyone with information about a violation of financial regulations, mismanagement of public funds and assets, financial malpractice, fraud and theft to report it.
The FMF-Whistle is a secure, online portal through which information bordering on economic and financial crimes that is deemed to be in the interest of the public can be disclosed. The portal also permits the person disclosing the information to perform a status check on matters that have been reported on the whistle blowing portal.
Anyone who has "authentic information about violation, misconduct, or improper activity which can impact negatively on the Nigerian people and Government" can report it through one or the other of three channels, (Phone; 09098067946, email; whistle@finance.gov.ng, web; http://whistle.finance.gov.ng , for phone calls: Monday - Friday 10.00am to 3.00pm except on public holidays).
This laudable initiative has resulted in the discovery of $9.8 million cash in a Kaduna slum residence in Sabon-Tasha and over $30 million cash in an apartment in Ikoyi, Lagos State. At an exchange rate of N350 to $1, the cash recovered so far will be over N14,000,000,000 (fourteen trillion naira in cash), just to name a few.
A whistle blower responsible for providing government with information that directly leads to the voluntary return of stolen or concealed public funds or assets may be entitled to anywhere between 2.5% - 5.0% of amount recovered. In order to qualify for the reward, the whistle blower must provide the government with information it does not already have, and could not otherwise obtain from any other publicly available source to the government. The actual recovery must also be on account of the information provided by the whistle blower.
While the recovery of these funds is a step in the right direction, the EFCC needs to exercise caution in disclosing information of recovered looted funds to the public before investigations are concluded. The Nigerian masses are quick at pronouncing guilt even before trial is conducted, and concocting, implicating and fabricating stories that may hinder the smooth sail of investigation, thereby distracting many from the true position of things.
The objective of the FMF-Whistle blower is the possibility of increased accountability and transparency in the management of public funds, and the possibility that more funds would be recovered that could be deployed in financing Nigeria's infrastructural deficit.
The staggering amount of cash recovered in a country with thousands of unemployed graduates, accident-prone roads, poor welfare package, and poor health care delivery for citizens is jaw dropping. It is sad that a great country like Nigeria has poorly educated, and enlightened youths with transformational ideas still suffering due to lack of financial support from the economy. Yet we discover huge amounts of looted funds in cash littered to the bewilderment of the world. I doubt if the Americans who own these dollars have piled such amounts of their cash in one place other than the country's financial institutions.
It is important that a fight against corruption, does not in itself lead to another corruption; recovered funds ought to be used in ways that will be felt directly by the Nigerian masses. We should be able to see, and likewise benefit from programmes and infrastructures that these colossal amounts of dollars can provide.
To my mind, Nigerians would not be happy with the fight against corruption if we keep hearing stroke-causing amounts of cash discovered, but the masses do not have anything to show for it.
In simple terms, funds recovered should not go to another pocket, but developmental strides worthy of admiration by the world.
Godspeed!