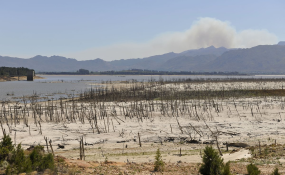 Photo: City of Cape Town
Water consumption in Cape Town has dropped below the city's 700 million litre per day target for the first time.
The city's inhabitants used 685 million litres per day in the past week, the city said in a statement on Tuesday.
Dam levels supplying the city decreased to 24.1%. With the last 10% of a dam's water not being useable, dam levels were effectively at 14.1%, the city said.
"We cannot emphasise strongly enough how critical it is that we do not relax our water-saving efforts over the next year at least. One winter of average rainfall will not get us out of this predicament," mayoral committee member for informal settlements, water and waste services; and energy, Xanthea Limberg, said.
"To give our residents an idea of the seriousness of the situation, we will be lowering the consumption target to 600 million litres soon."
In March, mayor Patricia de Lille declared the city a disaster zone to accelerate the development of emergency water schemes. The city was reducing water pressure to decrease the flow of water within its system.
De Lille told a meeting of the Cape Town Climate Change Coalition on Tuesday that the city was reviewing its 30-year water plan. It needed to give consideration to climate change to make the city more "water sensitive".
"This means managing all urban water, stormwater, groundwater, rivers and treated wastewater effluent in an integrated way, with the ultimate aim of being able to use these as sources of drinking water."
Source: News24