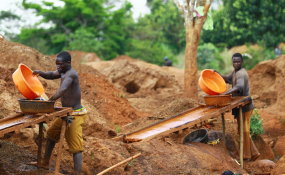 Photo: The Observer
By Homa Mulisa
The 6th Tana High Level Forum on Security in Africa themed: 'Natural Resource Governance in Africa' will be held Saturday, April 22, 2017 in Bahir Dar.
Some six African Heads of State and government including Prime Minister Hailemariam Dessalegn, Liberian President Ellen Johnson Sirleaf would grace the Forum. Also, United Nations Economic Commission for Africa (UN-ECA) Acting Executive Secretary Dr. Abdalla Hamdok and African Union Commission Deputy Chairperson Thomas Kwesi Quartey are among the attendees.
The Forum is expected to deliberate on pressing issues of Africa including Leadership in Africa: Reflections on the Legacies of the Late Dr. Wangari Maathai, panoramic view of the African security landscape as part of the side events.
In the main session the sub themes, "Managing Natural Resources in Africa: Challenges and Prospects" and "Natural Resource Governance in Africa: Unlocking the Potentials for Conflict Prevention and Sustainable Development" will be discussed according to information obtained from Forum Secretariat.
President Sirleaf, who would be keynote speech maker at the forum, highlighted the timeliness of the theme saying :"Natural resource governance is vital in the socio-economic transformation of Africa."
"We should emphasize on the social, economic, security and environmental pillars associated with natural resources management, as well as strengthen institutional and policy frameworks to meet our development goals," the president added.
Chairperson of the Tana Forum, Former Nigerian President Olusegun Obasanjo is expected to present an overview of the state of peace and security in Africa.
In addition to an annual book launch, a panel discussion will be held in collaboration with Bahir Dar University. The event will have panelists from various African Universities including Addis Ababa University Prof. Admasu Tsegaye.
Tana High-Level Forum is an independent platform on peace and security in Africa, held every year in the northern Ethiopian city of Bahir Dar, brings together current and former heads of state and government, policy makers, civic society, and academia from across the continent in an informal gathering to seek African-centered solutions to peace and security challenges on the continent.