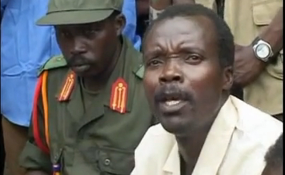 Photo: RNW
By Risdel Kasasira & Julius Ocungi
Gulu/KAmpala — The UPDF yesterday began withdrawing from Central African Republic (CAR) where it has been hunting rebel leader Joseph Kony, one of the world's most wanted men.
The withdrawal, which will take weeks to be completed, gives a lull to the thirty-year nonstop direct confrontation with the Lord's Resistance Army rebels.
The UPDF Chief of Staff of Land Forces, Brig Katsigazi Tumusiime, told journalists after welcoming the first batch of the withdrawing forces at the UPDF airbase in Gulu yesterday that LRA is no longer a threat to regional security.
"Kony is no longer a threat to the people of the Democratic republic of Congo (DRC) and CAR where you [soldiers] made sure that he is now a weak force. You have ensured that the people of CAR, South Sudan and DRC are happy by reducing the enemy's strength," Brig Katsigazi said.
However, a report by LRA Crisis Tracker, a project of Invisible Children, an American non-governmental organisation released early this year said LRA had carried out 14 attacks and abducted 59 civilians in CAR in January alone.
The end of nine-year offensive operation code named Operation Lightning Thunder against LRA, launched on December 14, 2008 against LRA positions in Garamba National Park in DRC might give Kony, who has been on the run, a new lease of life.
Before 2008, the UPDF had been fighting LRA in northern Uganda and in South Sudan since 1987 until 2006, when the rebels crossed to DRC and assembled in Garamba after the collapsed peace talks mediated by then the vice president of South Sudan, Dr Riek Machar.
Brig Katsigazi said they will continue monitoring LRA whose number is estimated to be 100 operating in small and scattered groups in CAR.
The UPDF spokesperson, Brig Richard Karemire, yesterday described Operation Lightning Thunder as a success.
He said the responsibility of ensuring security in the areas UPDF is withdrawing from lies with the CAR government in Bangui.
The American troops that deployed in CAR in 2011 to support UPDF in intelligence gathering against LRA are also withdrawing.