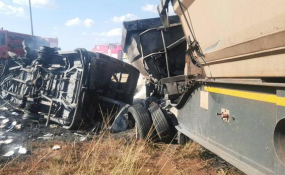 Photo: ER24
Pupils in Friday's horror taxi crash were burnt beyond recognition when the vehicle they were travelling in collided with a truck on the R25 in Wolvenkop, Mpumalanga, Tshwane emergency services said on Friday.
"Some of the pupils burnt beyond recognition, as they were trapped inside the taxi," EMS spokesperson Johan Pieterse told News24.
Pieterse said according to paramedics on scene, about 14 pupils had died and seven had survived the incident.
"They were travelling in a 22-seater taxi - seven survived - two were critical and five are serious," Pieterse said.
He said the pupils were transferred to the nearest hospital.
Meanwhile, ER24 and Gauteng department of education reported that the number of fatalities was 20.
News24