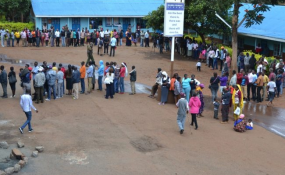 Photo: Moses Muoki/CapitalFM
By Vivian Jebet
The Jubilee Party has suffered another blow in Isiolo after Senator Mohammed Kuti, who is eyeing the governor's seat, decamped to Narc Kenya.
Mr Kuti on Friday announced that he had ditched Jubilee, just three days to the party's nominations in the county.
Jubilee Election Board postponed nominations in the county to April 25.
The senator decamped a day after Isiolo Governor Godana Doyo announced that he had ditched Jubilee for Party of Development and Reforms (PDR).
Both Narc Kenya and PDR have stated that they will support President Uhuru Kenyatta's re-election.
The Senator was to square out with the former Tana and Athi Rivers Development Authority (Tarda) Chairman Abdul Bahari and Governor Godana Doyo who has since defected to Party of Development and Reforms (PDR), a Jubilee 'friendly' party.
Dr Kuti, who was flanked by seven MCAs has been in politics for the last 15 years and served as an Isiolo North Constituency MP for two terms under KANU and Narc Kenya party tickets.
He was elected as the Isiolo Senator in 2013 under the United Republican Party (URP).
Dr Kuti said he decided to decamp on realisation that there was no transparency in Jubilee Party nominations.
Five MCAs also decamped from Jubilee to Narc Kenya, Martha Karua's party.
The MCAs who defected include David Lemantile (Oldonyiro), Abdi Sora (Garba Tulla), Ali Adan Wako (Kinna), Ali Galgalo (Chari) and Ekwam Teru (Aspiring Ngaremara MCA).