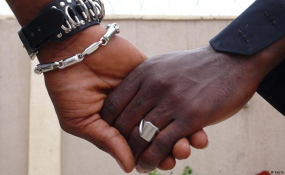 Photo: Deutsche Welle
A Commissioner with the Zimbabwe Human Rights Commission (ZHRC) has torched as storm with local gays and lesbians after she showered praises on President Robert Mugabe for resisting the imposition of "un-cultural" practices on the country by foreigners.
Commissioner Petunia Chiriseri, a preacher with a local church, had been asked to give a prayer during Tuesday's festivities to celebrate the country's 37 years of independence at the National Sports Stadium.
But the visibly excited official went far beyond a prayer, giving a lengthy sermon which was full of Mugabe praises and never short of its own share of controversies.
Pastor Chiriseri, sworn into the State rights watchdog in 2016, thanked Mugabe for "consistently acknowledging the power of gospel of our Lord Jesus Christ".
She also blasted unnamed nations that now worship Satan "under the so called multi-sectoral approach and freedom of worship".
In remarks that were apparently directed at gays and lesbians, Chiriseri thanked Mugabe for his firm stand against "unbiblical" practices.
"As church, you took a firm stand against unbiblical, un-cultural, unacceptable practices which foreigners...seek to impose upon Africa," said Chiriseri to President Mugabe, a rabid critic of gays.
"As the Church, we applaud you for your courage which may have cost you and our nation Zimbabwe the popularity which we once may have had.
"But it preserved our nation and family values of which we are proud of because they bind us together and they make us who we are."
In his response, Gays and Lesbians Association of Zimbabwe (Galz) director Chester Samba said, according to the group, such comments by a public official appointed to watch over rights issues were out of taste.
Samba also said his association was now concerned if Chiriseri would be impartial if she were to receive a complaint from the country's lesbians, gays, bisexual and transgender community.
"She shouldn't have represented the church in the first place as she holds another crucial role, that of human rights Commissioner," Samba said.
He added: "We need to guard against such bootlicking that threatens our attempts to build strong institutions.
"She missed the mark in her attempt to praise singing focusing on irrelevant issues instead of providing leadership on the country's pressing problems."