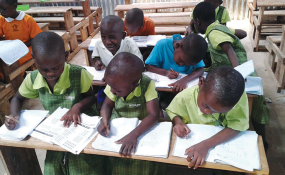 Photo: The Observer
By Yudaya Nangonzi
In 2005, Bridge International Academies (BIA) started operations in Uganda. Then, not many knew much about them, until the education ministry ordered the closure of 63 of their schools last year.
Since then, the academy proprietors have been in and out of court over the ministry's decision. As YUDAYA NANGONZI writes, BIA seems to have succumbed to the pressure while the ministry remains reluctant.
When government sanctioned a nation-wide closure of all unlicensed schools this year, BIA was one of the private schools that attempted to put its records straight. The academies had failed to meet the basic minimum requirements.
A 2016 inspection report by the ministry had found BIA facilities with poor infrastructure, hygiene and sanitation which "put the life of school children in danger".
Education minister Janet Museveni, who presented the findings to parliament, noted then that the schools also followed a curriculum that was not approved. The House sanctioned the ministry's call to close the schools until they meet the required operating standards.
In Uganda and elsewhere in Africa and Asia, BIA classrooms are uniform but very simple in construction. A visit by The Observer to various academies in Wakiso district found that the classrooms, offices and toilets are made of bricks up to the window level. The rest of the structure is completed with lemon green iron sheets. In place of windows, chicken wire mesh is used.
REGISTRATION
For now, The Observer has learnt, Bridge officials have acceded to the ministry's request and presented files for their schools to be licensed. In a brief letter to the education ministry dated January 25, 2017, Andrew White, the BIA managing director, wrote to the ministry's permanent secretary applying for licenses for only 28 academies.
Yet, in total, bridge has 63 academies and approximately 12,000 learners in primary and nursery schools.
"We write in line with the schools licensing regulatory requirements to submit the following applications for licensing and registration," White wrote, before ending: "We will appreciate your acknowledgement of receipt and will appreciate your guidance through this process."
We have established that the letter was not received by the permanent secretary, Alex Kakooza but, rather, the Teacher/tutor, Instructor Education and Training (TIET) department official as seen by the stamp and signature on his behalf dated January 25, 2017.
Whenever a school intends to seek a license, TIET is the first stop where its teachers' qualifications are verified before the files are sent to other departments like secondary, tertiary or primary for field inspections.
The BIA letter was also copied to all district education officers and inspectors of schools. White also attached a list of the academies located in Wakiso, Bugiri, Iganga, Jinja and Tororo districts that should be worked on.
According to the list, Wakiso district has the highest number of academies at 18. It is followed by Jinja with six, Tororo (two) and Iganga and Bugiri each with one academy.
In an interview with The Observer last year, Griffin Asigo, who identified himself as the regional manager for BIA operations in Uganda, said they had established academies in at least 40 districts including Mubende, Hoima, Kumi, Lwengo, Masaka, Lyantonde and Soroti. Asigo said BIA targets to admit 10 million learners across the world by 2025.
Since the school term started on February 6, all 63 academies have been in session, despite a clampdown on illegal schools by the ministry. The schools will see their term close on May 5, like the others, in line with the government school calendar.
NOT THE FIRST TIME
The ministry released an inspection report labeling BIA schools illegal. However, ministry and BIA officials have recently been locked in meetings at Legacy Towers to resolve the matter.
In one such closed-door meeting, BIA officials again presented files to the ministry seeking licenses for their schools. Under pressure then, a ministry official indicated that the ministry would not rush into licensing the schools without inspecting them again. In between the deliberations, Bridge had also rushed to High court to block the impending closure.
"How sure are we that what these people have presented to us is accurate information? They must be in a panic to present these files," the official said then.
The deliberations at the meeting with the ministry were later confirmed by Asigo during our interview.
"It is true the meeting took place but we did not come to a conclusion because the discussions are still ongoing," Asigo said. "We want to ensure that we use these remaining two weeks to the end of [2016] second term to sort everything."
Since then, licensing of BIA schools has been on hold due to an impending court case where bridge had secured an injunction blocking their closure. A source at the ministry disclosed to us last week that they were surprised that the officials had again presented files seeking licenses this year.
"Yes, we received their [BIA] files again but we have decided not to touch them until they resolve their ongoing meetings with the minister and the court case," the official said on condition of anonymity, referring to the matter as "complex".
Asked why they accepted to receive the BIA files again, the source said: "We received them not knowing that the court case was on. But we have not even opened the files since they were delivered in January as directed by one of the bosses."
DISCUSSIONS ONGOING
While Bridge is interested in having 28 schools licensed, the ministry is still reluctant to work on them. A high-ranking official at the ministry told The Observer that a lot of discussions are still ongoing on the future of this chain of schools across the country.
"We have not yet resolved on Bridge issues because consultations are still ongoing," the official said. "For instance, we can say 10 of the schools can operate as we observe their performance; request NCDC to check their curriculum and get assurance from Bridge that they will improve on their infrastructure, and not by word of mouth."
The official added: "So, when we go slowly on these issues, you should appreciate the ministry's efforts in wanting quality education for Ugandan children."
According to the official, Bridge officials are not coming out clearly on their intentions to offer 'low-cost' education which the source thinks is not low to an ordinary parent.
The fees structure in Bridge schools varies from one academy to another, depending on its location. For instance, at one of the academies in Wakiso district, the admission fee is Shs 10,000 while Baby to Top class learners pay Shs 86,000, P1-P3 (Shs 98,300) and P4-P5 (Shs 108,500) as tuition fees. Uniforms are at Shs 40,000 while sweaters are sold at Shs 23,300. All money is paid in the bank since there are no bursars at all the academies.
BRIDGE SPEAKS
On April 18, this reporter contacted Solomon Serwanjja, the BIA spokesman, to explain their efforts to have the schools licensed and the court case resolved but he spoke briefly and hung up.
"We are actually in a meeting that is discussing what you are asking me. Just give me some time and I will get back to you when we are done," Serwanjja said early last week.
When he did not call back, we rang him again on April 20 around midday and he said: "Actually, sorry that I did not call back. The person who was supposed to give me all the information you need, did not give us an update [in the meeting]. But I promise to get you information by close of business today [Thursday]."
Serwanjja is yet to call back or send an email as promised.
Bridge International academies submitted for licensing
NAME OF ACADEMY
DISTRICT
1. Idudi-IC
Iganga
2. Magamaga-MG
Jinja
3. Buwenge-JI
Jinja
4. Bugiri-BI
Bugiri
5. Malaba-TR
Tororo
6. Rubongi-TR
Tororo
7. Kawanda-WA
Wakiso
8
Kagoma-WA
Wakiso
9. Ttula-WA
Wakiso
10. Jinja Karoli-WA
Wakiso
11. Katooke-WA
Wakiso
12
Nansana-WA
Wakiso
13. Yesu Amala-WA
Wakiso
14. Matugga-WA
Wakiso
15
Kyengera-WA
Wakiso
16. Nabaziza-WA
Wakiso
17. Nkumba-WA
Wakiso
18. Abayita Ababiri-WA
Wakiso
19. Namulanda-WA
Wakiso
20. Nsumbi-WA
Wakiso
21. Gganda-WA
Wakiso
22. Nakuwadde-WA
Wakiso
23. Kajjansi-WA
Wakiso
24. Kakiri-WA
Wakiso
25. Wanyange Lake-JI
Jinja
26. Mufubira-JI
Jinja
27. Wanyange Hill-JI
Jinja
28. Katende-JI
Jinja