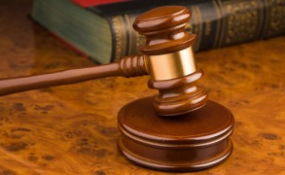 Photo: Times of Zambia
An international timber trader, who used his business as cover for smuggling weapons to the regime of ex-Liberian President Charles Taylor, in defiance of a UN arms embargo, has been sentenced to 19 years in prison by a Dutch court.
Guus Kouwenhoven, 74, was convicted by the Dutch appeal court of being an accessory to war crimes and arms trafficking for selling weapons to Liberia's former dictator during civil wars that involved mass atrocities, the use of child soldiers and sexual slavery.
Mr. Kouwenhoven has denied the charges.
The conviction of Mr. Kouwenhoven by the Dutch Appeal Court for war crimes and arms smuggling during the height of Liberia's brutal civil war is an historic victory for the Liberian people, an official of the international watchdog Global Witness said.
The landmark ruling sends a clear message that those who profit from war will be held to account, and sets a significant legal precedent in recognizing that trading arms for natural resources is a war crime.
Kouwenhoven was head of the Oriental Timber Corporation (OTC) during the regime of dictator Charles Taylor, who waged a brutal war against the people of Liberia and Sierra Leone. This campaign, which claimed over 250,000 lives, was funded largely through the sale of diamonds and timber plundered from Liberia's rainforests.
After lengthy legal battles, an historic ruling was rendered over the weekend which found Kouwenhoven guilty of delivering weapons to the regime of former Liberian President Charles Taylor, in return for special treatment for his timber company.
Kouwenhoven, whose past exploits include deportation from the US in the 1970s for trying to sell stolen Rembrandt paintings, was not in court for the ruling.
The campaign group Global Witness, which investigated corruption and environmental despoliation, said it believed the case was the first war crimes conviction for a businessman profiting from conflict resources.
Global Witness gathered evidence about his company, the Oriental Timber Company, which Dutch prosecutors cited when they initially brought charges against him more than a decade ago.
The case against Kouwenhoven, who was born in Rotterdam, has been fought for years through the Dutch courts, reaching the Supreme Court before eventually being sent back to the appeal court for a retrial.
The tenacity of the Dutch Authorities in pursuing this case despite significant challenges now means that other individuals who supported the war and made profit out of it might also face justice.
Charles Taylor was convicted in Sierra Leone in 2012 on 11 counts of war crimes and crimes against humanity, and is now serving 50 years in jail in the UK.
"This verdict sends a clear message to those who profit from war - they can and will be held to account. If you buy natural resources like timber in full knowledge that you're helping to fund a conflict or trafficking arms, there's only a cheque book between your company and the murder of thousands of people, in this case over 250,000," said Patrick Alley, co-founder of Global Witness.
Alley continued, "We applaud the Dutch authorities for their vision in charging Kouwenhoven back in 2005, for their tenacity in pursuing the case for so long and for imposing this sentence.
Whilst this can never make up for the countless Liberian lives lost and ruined by Kouwenhoven's murderous business model, it will at least mean he faces consequences for his crimes. Too often those who profit from war go unpunished, which in turn encourages further abuses."
Global Witness first documented the involvement of Kouwenhoven in illegal logging and arms trafficking in its 2001 report, Taylor Made. Kouwenhoven was placed on UN travel ban list in 2001 and in July 2003 sanctions on Liberian timber were put in place, on the grounds that timber was being traded by rebel and government forces in exchange for arms, thereby fuelling the civil crisis.
OTC, also known also as 'Old Taylor's Children' or 'Only Taylor Chops' because of its close ties with the former President, was the most notorious logging company in the country, dominating the Liberian timber industry with 1.6 million hectares of concessions.
Many European timber companies such as the Swiss/German Danzer Group and the Danish DLH Group - who claim to be one of the world's leading timber traders - bought timber from Kouwenhoven in full knowledge of his close links with the brutal dictator, yet have never been held to account.
The Global Witness co-founder also said that companies that bought timber from Liberia during Taylors' rule should also face prosecution for aiding and abetting war crimes.
Guus Kouwenhoven, born September 15, 1942 in Rotterdam, is a Dutch businessman who worked in Liberia during the presidency of Charles Taylor.
The Oriental Timber Company gained trading concessions from Taylor when he was president of Liberia at a time when conflict between rival militias spilled over into neighbouring Sierra Leone, claiming hundreds of thousands of lives.
Shipments for Kouwenhoven's timber operation in Liberia carried caches of hidden arms between 2000 and 2003. "These weapons were used by Taylor in an armed conflict with rebels, in which over a period of many years countless civilians were victimised," the Dutch judges said in a written summary of their ruling.
It can be recalled that the United Nations Security Council issued an order in 2001 banning Kouwenhoven from traveling because of arms trafficking. The Dutchman was arrested in the Netherlands on March 18, 2005 and stood trial at the Court of First Instance in The Hague, in April 24, 2006.
Kouwenhoven was charged with arms smuggling and war crimes in Liberia in the 90s, for which the Dutch public prosecutors sought a 20-year jail sentence and a fine of €450,000 against Kouwenhoven.
On June 7, 2006, Kouwenhoven was sentenced to 8 years in jail for arms smuggling. The court did not find him to be guilty of war crimes. Both the public prosecutors and Kouwenhoven have sought a higher court appeal. Kouwenhoven was released in March 2007 in anticipation of his new trial.
However, the Court of Appeal in The Hague acquitted him March 10, 2008 of all charges and sharply criticized the work of the prosecution. The prosecution appealed against the acquittal to the Dutch Supreme Court at March 20, 2008.
In April 2010, the Supreme Court ordered a re-trial at the court in Den Bosch. In November 2014, the court in Den Bosch was to hear arguments for dismissal as there were no witnesses available to testify.
The Prosecutor Cara Pronk-Jordan wished to have the earlier anonymous interviews used as evidence. On 21 April 2017, Kouwenhoven was convicted to a 19 year jail sentence for complicity in war crimes in Liberia and Guinea.