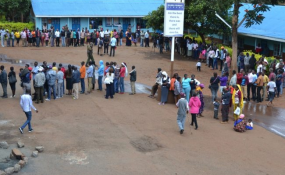 Photo: Moses Muoki/CapitalFM
By Collins Omulo
Jubilee Party Secretary General Raphael Tuju has disowned a statement doing rounds on social media that the party has disqualified a candidate in Eldama Ravine, Baringo County.
Addressing the media at the party's headquarters, Mr Tuju said neither himself nor the Andrew Musangi, the National Elections Board chairperson, have disqualified any candidate in the ongoing primaries.
"We wish to clarify that no candidate has been disqualified anywhere in the country. There has been fake news doing rounds in social media bearing my signature and that of chairman that we have disqualified a candidate.
"That is not true, that is propaganda and Kenyans are very creative at that," he said.
He also said no voter would be denied the chance to vote as long as they are on the queue before 5 pm.
He added that from Tuesday, nominations would begin at 7am and not the usual 6 am to give party officials more time to prepare.
Mr Musangi said its primaries will proceed as scheduled and will not be affected by a court ruling that extended the nominations from April 26 to May 1.
"At this stage we are still interrogating the ruling to determine its impact on Jubilee Party as we have not received full details on the same," he said.
Mr Musangi said the party will take appropriate legal action against those behind burning of ballot papers in Kirinyaga County.
"People behind the act of burning of ballot papers in Kirinyaga County will face the full force of the law using the law and party legal structures," he said.
He said the party has deployed more resources such as helicopters to deliver a free, fair and credible nominations.
"We are continuing to monitor the exercise for any hitches caused by human error and we are implementing rectification and improvement measures in real time so that nothing compromises the expression of the will of the people," he said.