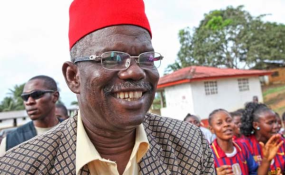 Photo: The New Dawn
editorial
SENATOR PRINCE Y. JOHNSON was the first Liberian political actor to openly propose a coalition of opposition political party, and also the first to seemingly showed what is akin to support for different political parties within an election year.
AT ONE POINT, Liberians speculated he was verging to become a member of Charles Brumskine's Liberty Party when he shockingly surfaced and spoke at the party's headquarters during its official opening ceremony.
"WE WANT ALL OPPOSITIONS to get UP out," Senator Johnson shouted amid thunderous applauds from LP partisans - some were already predicting an imminent merger with PYJ.
BUT PYJ IS ONE post-war Liberian politician who is unreliable and often using 'double tongue' - and it's hard to hold him by his words judging by his flip-flopping attributes he showed back in 2011 to support President Ellen Johnson Sirleaf in the run-off.
JOHNSON IS SIMPLY UNPREDICTABLE and his political allies must be watch him cautiously - there are speculations the Nimba County Senator is also a sellout and may backslid anytime once better bargain comes begging especially when there's so many dead Presidents (money) involve.
WE AGREE THAT THE SENATOR's so-called Ganta declaration move was a luminous idea to give the ruling Unity Party a sucker punch in October - the sort of feat that might usher in a new sense of democracy in post war Liberia and reshape the structure of opposition politics and the power it has to counter the ruling establishment.
BUT WE THINK PYJ lacks the pedigree to forge a vibrant synchronization of political ideas amongst all actors without fetching a profit for himself, that's why Ganta declaration was dead on arrival. His inconsistency may have been detected by counterparts.
THE OPPOSITIONS' MERGER in The Gambia that ousted dictator Yahya Jammeh was a serious one: well planned and implemented without political egoism, gluttony, and inconsistencies. Another example is the tremendous collaboration of oppositions in Nigeria that led to the election of President Muhammadu Buhari.
THE PYJ-UREY meager is just another joke filled with inconsistencies. Johnson, before the merger, denied knowing about the plan and in fact said he 'can't go under a non-native candidate'.
HE SAID HIS PARTY chairman out of concern, questioned him about the meeting as it was being held at his office, which also got him wondering what was going on.
"I ASKED WHAT'S HAPPENING there. I'm not aware. He, too, came to find out; then I told them to back off, because you cannot write something, put my name without my consent. If I was part of it, if I know it, if I had given my consent to it," Johnson told FrontPage Africa just before the merger was made public.
"I'VE BEEN RECEIVING calls that I have agreed to go under Benoni Urey to be his running mate. For God sake, I am one of the key indigenous sons and continue to preach indigenous leadership as opposed to minority leadership. For one hundred and some years, we have always cooperated with them," he said.
"BUT I THINK IT IS ABOUT time we compromise, we politically reconcile so that they can be seen under a country boy, then I would know that Liberia is moving on the right trajectory."
THAT WAS A COMPLETELY fallacious and dishonorable from a man desperate to obtain Liberia's top position. And his statement about non-native was also ridiculously divisive especially coming from someone who is ascribing unison to his political attributes.
THIS WILL SURELY COMEBACK hunting and devouring his new found political marriage with the All Liberian Party headed by a son of a non-native.
INTERESTINGLY, THE MERGER IS now signed, again showing a 'double-tongue PYJ, but while they've not even gone for convention yet, the Senator is opting to become the head of the coalition.
THIS IS A MOVE TANTAMOUNT to obviously stirring up tension because it's glaringly improbable that Benoni Urey will settle for second place on a ticket he has put in more resources then his newly found political partner.
SENATOR JOHNSON THINKS he has good leverage considering his election successes in his homeland and now dubbed the 'God Father of Nimba County' which gives him a seat at many political tables.
BUT THIS EGOISTIC POSTURE blended with Urey's authoritarian capitalistic concept of a businessman he's taken along with him to play politics might come crushing before the October polls.
TRUSTING PYJ IS SUCIDAL! The ex-warlord has a fine legacy of double standard and his craftiness of acting which led to the brutal execution of former President Samuel Doe is indelibly written on the history books of Africa's oldest republic.
WHAT WE THINK IS unwanted for our democracy is the presentation of mergers that has inconsistencies and egoism written all over it. Like several political pundits, we are concern about the abilities of Mr. Urey and Senator Johnson to compromise their egos for the interest of their newly forged coalition.
IF LIBERIA MUST THRIVE with its Democratic principles which allow multiparty, actors like Senator Johnson and Mr. Urey have to approach the game seriously and stop being anxiously thirsty for power without scrupulously considering what Liberians want.
WITH A CONVENTION INSIGHT, we think the merger may well collapsed if egos remain in the air and PYJ flip-flopping attitude is a factor that is already under the microscope and you can't rule out seeing the second term senator packing his bag out again like he did after being ousted from the National Union Democracy Party (NUDP) after being ousted for purportedly playing double standard.