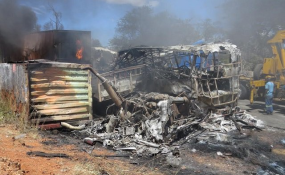 Photo: The Herald
By Munyaradzi Musiiwa
DNA tests conducted on the remains of passengers who perished when a South Africa-bound Proliner bus was sideswiped by a haulage truck before catching fire along Harare-Beitbridge Road have revealed that 31 and not 21 people were killed in the accident. According to a list released by the Midlands Civil Protection Unit, there were 81 passengers aboard the bus when tragedy struck and 29 people died on the spot, while two others died in hospital.
The victims have been identified as Alexio Gundiza, Collen Zeze, Josey Matawu, Joel Ndipa, Patricia Wadii, John Chimhanda, Cardman Maturika, Annah Chigu, a Ms Sihle, Remigio Nyamatezwa, Vivian Makwiyana, Joseph Matimba, Theophelus Madzitire, Tawanda Zimuto, Lee Foya, Silas Shoko, Munashe Kawishi, Ruvarashe Kawishi, Viola Chimbudzi, a Ms Ropafadzo, Ivy Nyamande, Winnet Masussa, Tafadzwa Kurwara, Memory Ndlovu, Ida Njale, Zondani Makonza, Nyarai Warikandwa, James Makonese, Ruponeso Muchenje, Angeline Sibiya and Benjamin Kufira.
Midlands provincial administrator Mr Abiot Maronge said the 18 families whose relatives were positively identified have already taken their remains following the processing of burial orders and death certificates.
Mr Maronge said there would be a mass burial for the remains that have not been identified including that of three other passengers whose remains could not be matched.
"We are suspecting that the three victims whose bodies could not be ascertained are part of the remains that we have. This does not mean they are the ones with the remains that we have but there could be remains of other people also among them. Burial arrangements for the remains are being made. Those families whose relatives were positively identified have since collected the remains," he said.
Meanwhile, the driver of the haulage truck, Regis Mungwari, has appeared before Mvuma Magistrate Mr Teyengwa Chibanda facing 21 counts of culpable homicide.
He was not asked to plead and was remanded in custody to May 5 this year.
Mr Chibanda said the trial will commence once the post-mortem reports and identification results of the burnt victims are released.
For the State, Mr Michael Kazomba alleged that on April 5 2017, Mungwari, who was driving a Harare-bound haulage truck with South African registration plates, sideswiped a bus killing about 21 people.
He said Mungwari acted negligently resulting in the loss of life.