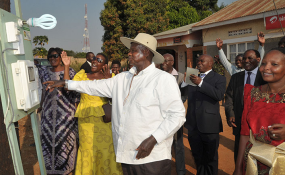 Photo: The Observer
By Alon Mwesigwa
A World Bank study has singled out Uganda and Seychelles as the two countries with the most efficient power utilities in sub-Saharan Africa.
The 2017 study, which surveyed 39 sub-Saharan countries, compared cash collected from bills sent out with the total costs of supply--broken down into operational and capital expenditures--per kilowatt hour (kWh) billed.
"The findings show that only Seychelles and Uganda fully covered both operational and capital expenditures," said the report, noting that it did not take into account system expansion.
Poor performance of utility firms has an impact on the power output, which could mean the country could be receiving less power than the installed capacity in place, ultimately leading to rationing.
Inefficient utilities are said to suffer from transmission and distribution losses, bill collection losses, and overstaffing. These prevent power distributors from delivering reliable electricity to existing customers, let alone expand supply to new consumers.
Power distributor Umeme says it has reduced technical and distribution losses to 19 per cent from the highs of 35 per cent around 2008. It targets to reach 14 per cent by the end of 2018.
The study titled Making Power Affordable for Africa and Viable for Its Utilities, will be presented at the utilities CEO forum at the coming African Utility Week in Cape Town from May 16 to 18.
"Less than half of utilities cover operating expenditures while several countries lose in excess of $0.25 per kWh sold. In this context, it will be difficult for utilities to maintain existing assets, let alone facilitate the expansion needed to reach universal access goals," said World Bank's director of energy and extractive global practice Lucio Monari in a statement.
The report also found that Uganda was one of those that did not suffer from underpricing. "They have the fiscal space to charge better-off, large-consumption customers more and cross-subsidize needy households."
Researchers found that in most countries, unmetered consumption is concentrated in large consumers such as factories and others who are able to pay cost-reflective tariffs.
By Uganda targeting better-off, large-volume consumers, significant loss reduction is possible with little loss of welfare. Also, pre-paid metering has been key in ensuring that Umeme is able to reduce on the number of defaulters.
"Households on prepaid plans do not risk disconnection for failure to pay and avoid reconnection fees, which can be considerable in some countries," the report noted, warning, however, that "prepaid meters should not be made mandatory if grid electricity is unreliable, lest customers pay cash in advance for electricity they cannot get when they need it."
At least 15 per cent of the population in Uganda is connected to the grid and five per cent on off grid sources, according to the 2014 census. The World Bank also lauded Uganda's initiative to attract smaller independent power projects (IPPs) investments, "including the innovative competitive bids for small hydropower, biomass, and solar projects solicited under the global energy transfer feed-in tariff (GETFiT) program".
This was developed jointly by the Electricity Regulatory Authority (ERA) and the Kreditanstalt für Wiederaufbau (KfW, German Development Bank).
"After South Africa, Uganda has the largest number of IPPs in sub-Saharan Africa and the only other competitively bid grid-connected solar photovoltaic (PV) program," the report said.
The biggest challenge for Uganda remains the high power tariff, which many poor households are unable to pay. With an estimated annual increase in demand of 10 to 12 per cent through 2020, and higher beyond, Uganda needs to embark on proactive planning for additional generation capacity, the World Bank advised.
Karuma and Isimba dams' coming online by 2020 will curtail the shortage crisis that might have come due to increased demand.