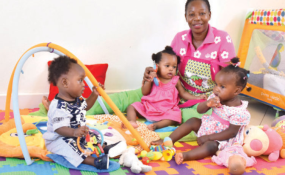 Photo: The Observer
analysis
By Olive Eyotaru
Giggles and hearty laughter welcome me as I walk into Parliament's breastfeeding facility, located at the Office of the Prime Minister.
The Shs 80m-breastfeeding centre for MPs and Parliament staffers was launched by Speaker Rebecca Kadaga in November 2015, and The Observer was curious about how it was changing parenting and effectiveness in the august House.
After going through the gates dotted with tough-looking security personnel, it is a relief to escape into a more calm and serene environment, only interrupted by the sound of children playing.
Outside the enclosed facility is a small compound dotted with baby swings, two slides and a plastic swimming pool, placed around the space fitted with an artificial grass turf.
One of the nannies, Irene Nawaho, ushers me inside the reception area, where three children are seated on a playing mat. A number of toys are strewn around them as they babble in baby language. They are the only babies around, given that it is Holy Thursday and other parents are possibly already on Easter break.
Nevertheless, it does not deter the nannies from pampering them. I am drawn by the clean and airy environment, the bright cartoon characters adorning the white walls, Winnie the Pooh curtains and the sparklingly clean, tiled floors.
The reception area is adorned with sofas where the honourable mothers can relax on arrival with their tots.
FACILITIES
Nawaho, a graduate of early childhood development at Young Men's Christian Association (YMCA), gives me a guided tour of the facility, which has a kitchen, toilet, bathroom and three separate breastfeeding rooms.
The nannies have a separate toilet and bathroom. In the kitchen is a fridge, where fresh milk, fruits and feeding bottles with expressed milk for the babies are kept.
Belinda Kyalisiima, the other nanny, also manages the kitchen area, where she prepares food for the toddlers.
"I am in charge of cooking for the children, particularly those from six months and above. I prepare their meals on a daily basis and also, with instructions from some of the parents, make special meals for those who probably have allergies and don't eat certain foods," Kyalisiima, who studied early childhood development and nutrition at Kingfisher Training School Muyenga, says.
The kitchen cabinets are stocked with different types of cereal, including soya and millet flour. Below the cabinets is a microwave, cooker, more baby bottles, two sterilizing units, a food steamer and a number of flasks brought by the parents.
Parliament has a monthly budget for the facility and buys basic meals including cereals, milk and fruits for the toddlers. The facility's coordinator and human resource officer at Parliament, Lillian Iculet, says while small meals are provided for the babies, the bulk comes from the mothers; they pool resources and stock up for the children.
A chart is plastered on the corridor wall, detailing a daily order of activities. Between 8am and 9am, mothers come in with their babies. They are bathed and breastfed or given porridge and drinking water, before their busy mummies hurry off to different departments of Parliament for work.
From 9am to 10:30am, this period is dedicated to indoor activities such as sleeping and breastfeeding. At about 10:30am, the children are guided outside to the play area; however, when the weather is unfriendly, they engage in indoor games. A fruit snack is also given.
Midday comes with lunch, when the children are fed milk and porridge and are also given drinking water. For those above six months, meals comprising steamed food are served.
"We make sure they are fed on steamed food in order to retain the nutrients," Kyalisiima says.
Between 1 and 3pm, the children are bathed, while others splash around in the pool. A glass of juice and expressed milk are also served then. From 3pm to 5pm, when the centre closes, children listen to rhymes and also watch cartoons, before their mothers pick them up for the journey home.
"This routine is, however, not cast in stone. We usually alter it depending on the number of children around and the weather," Nawaho says.
As we head towards the breastfeeding rooms, one-year-old Felicia Kusiima, whose mother is a librarian at Parliament, runs past us mumbling in baby talk, before pushing the door to one of the breastfeeding rooms open.
In the room are four beds with brightly coloured, cartoon-character blankets arranged in a straight line. Nawaho says this is where toddlers between 15 and 36 months take their naps. We move to breastfeeding room 2, where babies between two months and 14 months sleep. It also has a changing table for babies who have soiled themselves.
Inside the third breastfeeding room, only mothers are allowed in to attend to their young ones. Four comfortable chairs are placed in the room, with each seat separated by a plastic curtain for privacy.
Once a mother is ready to breastfeed her child, she can draw the curtain and create a private space, as slow music is played in the background to create a relaxed environment for her and the baby.
HISTORY
When Parliament first opened the facility for its female legislators and staff, many thought it was a daycare center. Iculet insists the facility was created to provide a space for lactating mothers working at the institution to breastfeed their children and return to office, a stone's throw away.
The facility did not come out of the blue. The idea was conceived in 2011 by former Parliament director of human resource, Victoria Kaddu, and Hellen Kawesa, the assistant director of communications and public affairs (CPA), after they returned from an internship partnership programme at the New York State Legislature in the United States.
Kawesa recalls their visit, where they were struck by the presence of a well-furnished breastfeeding room on each floor of the three-storied building, and on different wings, where female staff and members of the legislature worked.
"The mothers who were working there would come out of committee meetings or offices and take time off to nurse their children. It impressed us so much and we were told that since this was introduced, the number of female staff had grown drastically and performance was enhanced," Kawesa says.
Upon return, Kawesa and Kaddu highlighted this aspect to the Speaker and Clerk to Parliament, with recommendations that the Parliamentary Commission considers the idea. While it took four years to be set up due to limited space, Kaweesa is elated the idea was eventually implemented.
"I remember MPs used to come with their babies and nannies to attend committee and plenary sittings and they [babies] had to wait in their vehicles," she says.
Parliament's Human Resource regulations stipulate that upon return from maternity leave, a mother is allowed to work for six hours a day and return home to look after the child.
While this is for a period of six months, Iculet says it was not feasible, as it grew tedious for mothers.
Mothers were still not at peace, leaving their little ones home, "that is why we pushed for the facility", Iculet says, with the greater goal to encourage exclusive breastfeeding for the first six months of life as recommended by the World Health Organisation (WHO).
While many working mothers wish to adhere to the WHO guidelines, private companies offer no more than two months' maternity leave; in the absence of a facility like Parliament's, a two-month-old baby is forced to start on formula feeds.
BENEFICIARIES SPEAK
While the facility plays host to 12 children who are not brought in at a go, Iculet says the initial target was for eight children. The assumption was that on a rather busy day, eight children would be brought in at a go.
Harriet Nalusiba, a principal librarian at Parliament, is one of the beneficiaries of the facility. Having had trouble with maids with her now 10-year-old daughter, Nalusiba decided to bring her younger one, Felicia, to the centre when her three-month maternity leave ended.
"It is nice for any woman to have an option to leave your baby at a place where you can walk in any time and breastfeed. I am not worried about rushing home to my child in Matugga," Nalusiba says.
"Those things affect women's work so badly and also have a bearing on how men think about women at work. Even when men interview staff, they have at the back of their minds [a woman's future preoccupation with motherhood]."
Nalusiba's sentiments are shared by Agago Woman MP, Franca Judith Akello, whose two-and-half-year-old daughter, Mary Akidi, stayed at the centre when mummy had to work. Akello, a mother-of-four, had two children during her first five-year term in the 8th Parliament.
"Whenever I had my babies, I would not settle at Parliament. I would come very late for committee meetings and within an hour, I would be called from home all the time that the baby was crying incessantly and needed to be breastfed. At some point, I got discouraged to have more babies," the MP recalls.
Now, the convenience of being closer to her child while she represents her people in the House is something Akello does not take for granted.
"I have really enjoyed working at Parliament because I bring her to the centre, then head to work. I would walk there and breastfeed and return at my own convenience. She has also turned out to be a very social daughter because she grew up with other children," the MP muses.
Bugiri Woman MP, Agnes Taaka Wejuli, is also a beneficiary of the facility, where she takes her seven-month-old son, where he meets Evans Behangana's baby; Behangana is a police officer attached to the surveillance team at Parliament.
FUTURE PLANS
The demand for daycare centres in the country has grown over the years, majorly due to the unreliability of housemaids and scarcity of professional nannies for homes.
In 2014, First Lady Janet Museveni made a herald call, urging bosses countrywide to consider setting up daycare centres at the workplace to level the ground a bit for working mothers.
While the initial plan of Parliament's breastfeeding facility was to allow mothers to breastfeed their young ones, Iculet hints that in the future, the institution may set up a daycare centre to allow MPs and staff to drop off their children even after weaning them. This, she says, will happen once the construction of the new chambers of Parliament is complete.
"There is a lot of demand for daycare services; so, we could have a wing for that so that even the male staff and MPs can bring their children. For now, our focus is on breastfeeding," Iculet says.
While the concept at Parliament may seem expensive, Iculet gives assurance to employers who would like to adopt the idea that one can set up a facility in one room at a much lower cost.