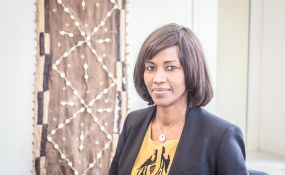 press release
BAMAKO, April 26, 2017 —Ms. Soukeyna Kane, a Senegalese national, is the new Country Director for Mali, Guinea, Niger and Chad. She will be based in Bamako, Mali.
Ms. Kane, joined the Bank in March 2003 as a Senior Financial Management Specialist and has held several positions in the Africa Region, Operations Policy and Country Services (OPCS) and Middle East and North Africa (MENA).
Prior to joining the World Bank, she was the Principal Internal Auditor at the African Development Bank. Her extensive experience in the private sector includes the position of Administrative and Financial Director in Assurances Generales Senegalaises (AGS), as well as manager and senior auditor with ERA Audit et Expertise, AEG Paris and Ernst & Young. Ms. Kane is a Certified Public Accountant and has a Master in Accounting and Finance. She graduated from Institut Commercial Supérieur in Paris.
Ms. Kane was most recently the Practice Manager, Governance – Europe and Central Asia (ECA) for the Bank.
In her new position, Soukeyna Kane's top priorities will be to provide strategic leadership for formulating programs that support the World Bank's twin goals: eradicate extreme poverty and improve shared prosperity in Mali, Guinea, Niger and Chad and the Sahel region more broadly; and maintain portfolio quality by working with internal and external partners for better results.
Ms. Kane's appointment is effective May 1, 2017. She will be visiting Mali 1-5 May 2017 and meet with the national authorities.
Contacts:
In Bamako: Habibatou Gologo, +223 92 14 31 37, hgologo@worldbank.org
For more information on World Bank activities in Mali, please visit: http://www.worldbank.org/en/country/mali
For more information about the World Bank's programs in Africa visit: www.worldbank.org/africa
For more information on IDA: http://ida.worldbank.org/
Friend us on Facebook: http://www.facebook.com/worldbankafrica
Follow us on Twitter: https://twitter.com/WorldBankAfrica
Watch our videos on YouTube: http://www.worldbank.org/africa/youtube
Listen to our Podcasts on Soundcloud: https://soundcloud.com/worldbank/sets/world-bank-africa