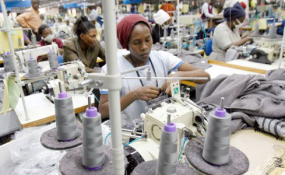 Photo: Daily Nation
By Patrick Lang'at
President Uhuru Kenyatta on Monday announced an 18 per cent rise in the minimum wage for workers.
The President also increased non-taxable bonuses and overtime to Sh100,000.
He proclaimed the increases during Labour Day celebrations at Uhuru Park.
Earlier this month, President Kenyatta promised to push for salary raises for private-sector workers.
"For the past two years, we have not increased salaries for private-sector workers," President Kenyatta said when he toured the United Aryan Company, a garment factory in the Baba Dogo Export Processing Zone in Nairobi.
"We are now saying, come Labour Day, we will impress on your employers to give you a salary increment."
The President skipped last year's Labour Day celebrations, having announced a 12 per cent minimum wage raise for workers in 2015.