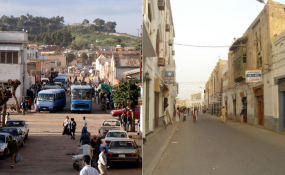 Photo: allafrica.com
Assaba — Eritrean diplomats assigned to various countries including ambassadors, consuls, secretaries and charge de'Affairs have on 29 April visited various historical as well as development sites in the Southern Red Sea region.
During their visit to Rahaita and its environs, the diplomats were accompanied by Major General Hummed Karikare, Commander of the Eritrean Navy and of the Eastern Command and Abdel-Kader Dawed, Sultan of Rahaita while the residents of Rahaita accorded them a worm welcome.
Sultan Abdel-Kader gave briefings to the visiting diplomats as regards the historical background of Rahaita Sultanate as well as the ancient deeply rooted customs and traditions including complementarities among one another, strong patriotism as well as the vibrant traditional youth organization known as "Fiema" and other heritages of Rahaita Sultanate which are still practiced to date.
Pointing out that conservation of historic relics, biodiversity, prevention of sea pollution is a culture of the residents of the area, Sultan Rahaita said that ancient relics, indigenous vegetation, rare species of fish and coral reefs and particularly traditional sesame grinding tools as well as huge water reservoirs in the area known as "Hasbara" are among the highly esteemed tourism assets of the region.
The visitors on their part expressed appreciation as regards the agricultural activities being carried out in such arid areas as well as the culturally rooted practices of heritages preservation.