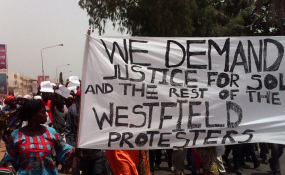 Photo: Yusef Taylor
By Momodou Jawo
The minister of Information, Communication and Infrastructure Demba Ali Jawo has stated that there would be no blank amnesty for those that were greater responsible for some of the atrocity been committed against the people.
"Reconciliation certainly is a priority of the government, but I can assure you it will not happen at the expense of justice for our colleagues who were victims during the former regime; which include the late Dayda Hydara, Chief Manneh and Omar Barrow and all journalists who were subjected to torture in the hand of agents of the former regime," he assured.
The government, he said, is in the process of setting up a Truth and National Reconciliation Committee.
Minister Jawo made this remarks on Tuesday at the World Press Freedom Day symposium held at the University of The Gambia Faculty of Law conference hall.
Presently, he added that they could boost of 20 commercial and community radio stations, national television among others in the country. "Since the return of the new era, there has been application for various types of media which include private televisions," he revealed.
"I can assure you that the Public Utility and Regulatory Authority (PURA) has already started evaluating applications and it is just matter of time before private television becomes a reality in this country. Other area that the Ministry is forcing is the prorogation of a regulating framework but I can assure you that we will never impose anything on journalist," he noted.
"We are aware that the most ideal form of a regulating framework for the media is self-regulation," he said, therefore be rest assured that whatever form of framework that would be in place would be discussed with all the stakeholders particularly The Gambia Press Union (GPU).
He added that another area that his Ministry intends to pursue is media law reforms. "Some of our laws are not media friendly and therefore our intention is to reform them and bring them in line with best practices in other part of the world," Jawo stated.
For his part, the ambassador of European Union in The Gambia H.E. Attila Lajos spoke at length on the significant of the forum, thus calling for professionalism among media practitioners. He said free press is essential to democracy, noting that media play a critical role in ensuring accountability.
The representative of the UNESCO, Mr. Laszek J. Bialy, dwelled on the significant of press freedom.
Suleiman Braimah, executive director for Media Freedom West Africa (MFWA) and Lars Moller both spoke at length on the importance of the event.