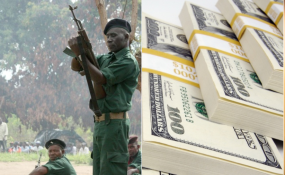 Photo: allafrica.com
By Joseph Hanlon
Ceasefire extended indefinitely
As expected, Renamo head Afonso Dhlakama this morning (Thursday 4 May) announced an indefinite extension of the cease fire. The announcement was made by telephone from his base in Gorongosa to a press conference in Maputo.
He confirmed that he has remained in regular phone contact with President Filipe Nyusi. He linked the cease fire extension to the withdrawal of government troops from the area around his Gorongosa base, which he confirmed had begun. Dhlakama said there were more than 26 government bases in the area, and that he and Nyusi had a "verbal agreement" that they would be vacated by the end of June.
Dhlakama said he wants the 2019 national elections to include elections of governors. He said he is no longer demanding the right to appoint governors before that, because that would be a distraction which would delay the important negotiation. He added that the commission on decentralisation was working, although slowly because it was a complex issue. He hoped the commission would have a decentralisation plan to present to parliament for the October-December session.
This was different from previous cease fires announced since 27 December, Dhlakama said, because this is a "truce without deadlines." He said he had listened to people, particularly business people who were afraid that, after the extension of the truce for just two months, the fighting might resume. But now, Dhlakama said, "peace is becoming an effective peace. The truce is more to reassure Mozambicans, business people, intellectuals and foreigners, that Mozambique now has another image, an image of peace, tranquillity and of a country that has all the conditions for investment". (STV, O Pais, Zitamar, AIM En & Pt 4 May)
Debt guarantee confirmed
Prime Minister Carlos Agostinho do Rosario today (Thursday 4 May) confirmed the government guarantees of the debts to Proindicus and MAM (Mozambique Asset Management).
But speaking on the second day of a question and answer session between the government and parliament, Rosario insisted that the primary responsibility for the debts lies with the two companies, and not with the government, which is merely the guarantor. It was up to Proindicus and MAM to renegotiate with their creditors, and to do all in their power to restructure their business so that they can comply with their debt servicing obligations.
Proindicus, MAM and Ematum are three private companies owned by the state and controlled by the security services. They took on $2 bn in debt in 2013-4, with state guarantees that were both illegal and unconstitutional.
Bonds issued for Ematum were converted into government bonds in 2016. But syndicated loans for Proindicus and MAM are still considered debts by private companies. "Conversion or not into sovereign debt will follow the norms included in the respective contracts after the possibilities of payment by the companies have been exhausted and in conformity with what may be determined by the Attorney-General's Office", said Rosario. (AIM En 4 May)
But the contracts include government guarantees which Rosario has accepted. And the companies seem to have little chance of repaying.
Meanwhile Zitamar (27 Apr) quotes Isalcio Mahanjane, who it says is a Frelimo member and lawyer to the family of former president Armando Guebuza, to say that although the parliamentary commission found the guarantees to be illegal, it also found the money was spent on defence and therefore should be repaid. "We have to look to the goal of the debts. … If they were for private use there would be no way to take them as public debts. [But] we have been hearing that those debts were used to upgrade the defence system. I think that is clear. If the state couldn't assume it as a public debt, it would mean we would have to give back all the military equipment we have got from the debts." Thus he believed the debts should be repaid.