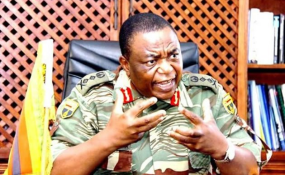 Photo: The Citizen
By Blessed Mhlanga
Zimbabwe Defence Forces commander, General Constantino Chiwenga has achieved what President Robert Mugabe has failed to accomplish in a long time.
Chiwenga has silenced the restive and militant war veterans who were openly attacking their patron, Mugabe, and calling on him to step down.
Previous attempts by Mugabe to shut up the liberation war fighters had come to nought and instead were met with open resistance and rebuttals by the Christopher Mutsvangwa-led Zimbabwe National Liberation War Veterans Association (Znlwva).
But just one interview and one warning from Chiwenga, who was at one time referred to as Zanu PF's political commissar by Vice-President Emmerson Mnangagwa, pushed the war veterans into a corner where they sit subdued and quiet.
"Speaking on behalf of the defence and security services of the country, this nonsense must now come to an end. We will not have our commander-in-chief being belittled by nobodies, who never commanded any battle, let's not do that. Some want to say they are educated and are professors yet they fled the war," he said in a lengthy and strong-worded warning.
Immediately after, war veterans who had exchanged harsh words with Mugabe and his wife Grace in the not too distant past, demanding that he step down, fell into line one by one -- tails firmly tucked between their legs.
War veterans' chairman, Mutsvangwa effectively gagged the association's spokesperson Douglas Mahiya and secretary-general Victor Matemadanda, telling them that as war veterans, they would take advice from the man who owns the armoury.
"He is a serving general and he never normally strays into political issues. He is a very senior commander. He has built a lot of experience and wisdom and so when he decides to say something, we give it due weight and gravity. It is only proper that we listen to him with respect," Mutsvangwa said.
Law professor and political analyst, Alex Magaisa, said the development showed the power matrix in the current political dispensation.
"Chiwenga is their boss and they come from the same liberation tradition and they respect him. Obviously, it also demonstrates the strength of the military in the political matrics of Zimbabwe," Magaisa said.
"It is, however, difficult to say that Chiwenga could be more powerful than Mugabe because he was speaking on behalf of Mugabe and the war veterans realised that Mugabe is being backed by their military bosses and therefore had to pull back."
Former Zanu PF insider and political analyst Ibbo Mandaza however, said something was happening beneath the still waters and time would expose the intricate web of power.
"It does not reflect that Chiwenga has more power than Mugabe but something is going on and we will soon know. It's not about these statements. He [Chiwenga] does not have that power. But I think it shows that it is not only the party but also the state that is divided," he said.
Just last month at their own indaba, the war veterans appeared to declare war on Mugabe, making a clarion call on citizens to remove him from power in elections next year.
The association's secretary-general, Matemadanda issued a clear call on Mugabe to step down from power, saying if he refused to do so, the electorate would boot him out with the help of the war veterans.
"As I am looking at you, I am thinking of 2018. We would want to discuss about the war veterans' welfare, but in a country where $15 billion can be stolen and nobody is arrested, we are just wasting our time," Matemadanda said.
"What we must do here is to have a plan of getting rid of people who steal $15 billion without being arrested. Those that failed to arrest them must also go. Hoping to get any form of welfare from such people is a complete waste [of time].The people you gave the mandate to run this country have failed."
He urged Mugabe to use his last days to organise and run foundations while writing his memoirs. He said those that were encouraging the 93-year-old Zanu PF leader to cling onto power were misleading him for personal gain.
"The same people have sent their own grandmothers and fathers to old people's homes, but cannot let go of a 93-year-old president, lying to him that 'we love you' as a decoy so that he cannot have time to write his memos and leave a legacy when he dies," Matemadanda said.
Political scientist, Eldred Masunungure, however, said Chiwenga issued a military directive to war veterans who fall directly under his command as the reserve force of the country and it was bound to be respected.
"The CDF [commander of the defence forces] is not only commander for serving military men and women, but also of those who have left the army and war veterans who are regarded as the reserve force. While the relationship between Mugabe, a political leader, and the war veterans is that of mutual respect, their relationship with the military is not a matter of mutual relations," he said.
Masunungure said Znlwva was more inclined to listen to a person whom they had shared trenches with and Chiwenga had to be the one to chastise them after the political leadership of Mugabe had failed to silence the dissent.
Media advocate and social commentator, Rashweat Mukundu, however, said Chiwenga's statements were a mere smokescreen, made to keep Mugabe happy while consolidating Mnangagwa's power.
"The CDF statement and warning to war veterans is a double-edged sword in that while he speaks in defence of Mugabe, this statement is a reversal of his earlier statements that the military, especially the war veterans in the military, are the vanguard of the revolution, essentially saying the gun leads the politics or party, a position that is being pushed by the war veterans," Mukundu said.
"The CDF was covering his back as the president has stated that it is the party and politics that lead the gun. The war veterans and the security sector are known to belong to Team Lacoste and believe that Mnangagwa must take over from Mugabe."
Mukundu said the seeming attack and falling into line of war veterans was a diversionary tactic that clouded the fact that the war veterans and the security were on the same side.
"What Chiwenga has done is simply consolidating Team Lacoste's position by ensuring that statements by war veterans are managed and their power kept in check, while keeping the commander-in-chief happy. In essence, there is no conflict between war veterans and the CDF as they belong to the same team," Mukundu said.