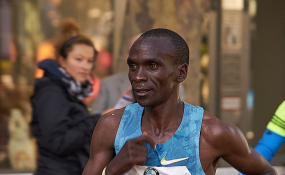 Photo: Denis Barthel /Wikpedia
By Peter Njenga
They don't call Nazionale Autodromo Monza F1 circuit the "Temple of Speed" for no reason. In 2004, Colombia's Juan-Pablo Montoya averaged almost 262.242kph in the 2.4km circuit in a Williams which is the fastest lap times ever achieved there.
On Saturday, Kenyan Eliud Kipchoge cruised around the same circuit for 17 rounds to run the fastest marathon time ever achieved by man of 2 hours 00.25 seconds. Here, times are recorded in a 1,000th of a second.
Kipchoge's target was to run the 42.193km race in under the mythical under 2 hours and join sporting folklore.
But he came very close, actually within 150 metres for 1:59:59:59. He shaved 2 minutes 32 seconds off compatriot Dennis Kimeto 's world record.
Since the Monza circuit is not certified by the sporting governing body, the International Association of Athletics Federations (IAAF) nor was the watering method of feeding athletes through mopeds and interval pace setting, Kipchoge's time cannot be classified as a world record.
But the Guiness Book of Records people were there.
But who cares. Kipchoge's record-breaking feat was the biggest news worldwide on Saturday. He was paced by a phalanx of pace setters who joined the race at different intervals to offer moral support as the lead electric car had its speed been computer chipped to match the 1:59:59 target, effectively becoming his guiding angel.
A record 93 television stations covered the event live, with hundreds of journalists locked out of the iconic circuit which will be opened to the public again on September 3 during the FIA Italia Grand Prix.
At the end, a handful of Kenyans led by Racheal Ruto, the wife of Deputy President William Ruto and Kenyan ambassador in Italy were at hand to receive Kipchoge and sang a few thanks giving songs.
The Nation caught up with Kipchoge at 6 pm on phone, a whole 15 hours since waking up. "This is one of the longest days of my life," said an elated Kipchoge. "I have never given so many interviews since undergoing doping test like today. And we are just starting. My target was to run under two hours, so let's appreciate the fact that I did something which I am pleased with," said Kipchoge, who has now won seven of the eight marathon races he has entered since becoming a marathoner in 2013.
He said his performance has given him yet another challenge as he has basically won everything that matters since becoming the youngest world champion in the IAAF World Championships in Athletics at 5000 metres in 2003.
"I have seen what seven months of training can do and I will sit down and reflect on what is next, obviously I have seen that the under 2 hours marathon is possible. I won't mind trying it again because what is there for me in athletics? Chase targets."
Kipchoge will fly to Amsterdam, the Netherlands for a series of promotional activities for Nike and is expected back home on Wednesday.
Regarding the circuit and weather conditions, Kipchoge said it was ideal and there is no need to duel of ifs and buts. "
Sports Scients.com summed Kipchoge's victory as "extraordinary:" Kipchoge kept going for twice the distance (half marathon). The gulf between him and the rest is enormous, and while there are others (Wilson Kipsang, Daniel Wanjiru and Kenenisa Bekele) who probably fall between Kipchoge and Zersenay Tadese/Lelisa Desisa, Kipchoge is so superior it is quite extraordinary. doubt whether anyone else in the world would've got within a minute of Kipchoge today."
The race had been described as the perfect opportunity for science to defy physiology but the opposite happened. Early this year, Nike sent over 30 top sports scientists to monitor Kipchoge's lifestyle in training at the Global Sport Communication high performance camp in Kaptagat near Eldoret.
For a close to a week they subjected Kipchoge to all sorts of tests, including simulations using the best equipment available on earth.
They had a lingering doubt as the sub-2 hours marathon became a subject of discussion among scientists. Some had predicted that the earliest man can achieve this target is 2050 basing on scientific calculations. Kipchoge made nonsense of science.
"I now know I have 25 seconds between me and history," he said.