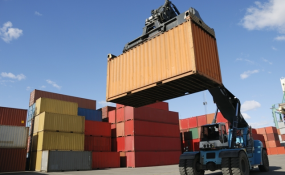 Photo: Daily News
By Henry Lyimo
The Prime Minister, Mr Kassim Majaliwa, has directed government institutions at the Dar es Salaam Port to operate 24 hours a day and seven days a week (24/7), starting tomorrow, to reduce dwell time and make it competitive.
The Prime Minister said during the 10th Tanzania National Business Council (TNBC) meeting that all government institutions including Tanzania Revenue Authority (TRA), Tanzania Food and Drugs Authority (TFDA) and Tanzania Bureau of Standards (TBS) should reschedule their working hours to enable the port operate 24/7.
"From tomorrow, I want implementation of this directive," he said at the meeting in response to complaints of inefficiency at the Dar es Salaam Port from the Chairperson of the Tanzania Truck Owners Association, Angelina Ngalula.
Ms Ngalula had said that dwell time at the port was between 10-13 days which makes it uncompetitive in the region as its closest rival, Mombasa Port had dwell time of 3-4 days.
She said that there was lack of coordination between government institutions which contribute to delays in cargo clearance at the port. No one is bothering to know why cargo clearance takes that long.
There are so many institutions, but they have no coordination," she complained. The Prime Minister said the government understands red tape.
The World Bank said in 2015 that inefficiencies at Dar es Salaam Port cost Tanzania and its neighbours up to 2.6 billion US dollars a year. Kenya's Mombasa port, which is the largest in the region, is much more efficient. If Dar es Salaam Port reached the same level of efficiency as Mombasa, the economy will gain almost 1.8bn US dollars a year, according to a World Bank analysis.
Tanzania signed a 565 million US dollar deal in 2014 with the World Bank and other development partners to expand the Dar es Salaam Port, part of plans to boost the east African nation's role as a regional trade hub. President Magufuli sacked top management of Tanzania Ports Authority (TPA) in 2015 as part of a campaign to root out corruption and inefficiency in the government.
Their sacking was due to failure to address long rooted administrative flaws within TPA that cost the nation billions of shillings in tax evasion.
Dr Magufuli has also disbanded the board of directors of the ports authority due to its failure to take action against the Dar es Salaam Port's long history of poor performance. The Port of Dar es Salaam is the principal port serving Tanzania. It is one of the three ports in the country and handles over 90 per cent of the country's cargo traffic.
According to the International Association of Ports and Harbours, it is the fourth largest port on the African continent's Indian Ocean coastline after Durban, Mombasa and Maputo.
The port acts as a gateway for commerce and trade for Tanzania and numerous bordering landlocked states.