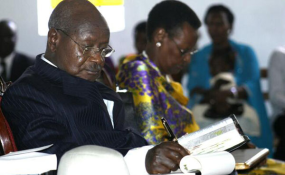 Photo: Daily Monitor
By Stephen Wandera
Kampala — The European Union has cautioned President Museveni to go slow on his plans to hurriedly implement donor-funded projects, warning that it could end in shoddy work and increased corruption.
The World Bank and European Union are some of the biggest funders of agriculture and infrastructure projects.
At last week's World Economic Forum in Durban, South Africa, Mr Museveni criticised international financial agencies funding infrastructure projects in Africa as "unserious", citing "frivolity" on their part.
Issues
Ambassador Kristian Schmidt, the head of the European Union Delegation in Uganda, (EU) in a rejoinder said whereas the President's comments were not directed at the EU, they "strictly follow and monitor our projects". "But what I can say is that if you do not want to follow procurement procedures like tendering, you can sign a contract with one company but you may end up paying four times the market value," Ambassador Schmidt said last Friday.
Mr Museveni, speaking last Wednesday as the chief panellist at this year's World Economic Forum on Africa in Durban, South Africa Said: "They (donors) take small things, say tendering; when you go for tendering they bring all sorts of jokers, and then at the same time want same ground field for tenderers; then when the small ones don't win, then they appeal... .then you find a project taking like five years to start."
He added: "Why can't you (financial lending institutions) look for serious groups and [they] are the ones which tender for business instead of wasting time with these jokers. We shall be democratic (in terms of business) later after we have had some of the infrastructures."
In an interview on the sidelines of a conference on Friday to mark 30 years of EU Erasmus Program me at Uganda Manufactures Association conference hall, Ambassador Schmidt said single-sourcing is a recipe for shoddy work and breeds corruption.
"This is when you find a minister single-handily signing off deals,"he said.
Several huge infrastructure projects in the country, among them the bungled project to upgrade Katosi road in Mukono to bitumen, have been rocked by allegations of corruption.
The programme
Erasmus is the EU's programme that provides scholarship and grants to students and organisations. Set to last until 2020, it has opportunities for a wide variety of individuals and organisations.
Ambassador Schmidt said since 2004, a total of 89 Ugandans have benefited from the programme and called on more Ugandans to take advantage to benefit from it.
Italian Ambassador Mr Domenco Fornara explained that "Erasmus is a name of a scholar who believed people think freely. As youth you have to take on the future now, not tomorrow."