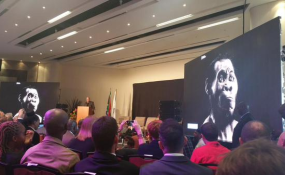 Photo: Maropeng
analysis
Scientists announced on Tuesday that the Rising Star cave system - the home of homo naledi - had yielded a series of startling new finds: not least that there was still a great deal more exploring to be done, that modern humans may have known homo naledi a lot better than we previously thought, and perhaps most amazingly, a skull intact enough to allow facial reconstruction. By MARELISE VAN DER MERWE.
Scientists announced on Tuesday a series of further discoveries in the Rising Star cave system, the outcome of further research into site where homo naledi was found. The results follow a three-year expedition in the Cradle of Humankind. More specifically, the researchers are sticking to their guns: naledi, they say, disposed of their dead.
The research, consisting of three papers published in the journal eLife, firstly describes the age of the naledi fossils found in the Dinaledi Chamber, which they say is considerably younger than expected, suggesting homo naledi may have come into contact with modern man.
Second, it announces the discovery of a second chamber, Lesedi, in the Rising Star cave system, containing further specimens of homo naledi virtually identical to those first found in the Dinaledi chamber...