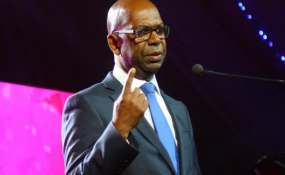 Photo: The Star
By Muthoki Mumo
Safaricom on Wednesday reported a 27.1 per cent growth in net profit to a record Sh48.4 billion, driven by increased customer spending on mobile money and Internet services.
While the average amount of money a Safaricom user spent on calls and text messages fell in the year to March 2017, the results show that customers dug deeper into their wallets for M-Pesa and data services.
Safaricom's mobile data revenue surged 38.5 per cent to Sh29.29 billion while M-Pesa revenue grew 32.7 per cent to Sh55.08 billion. During the same period, voice revenue inched 2.9 per cent higher to Sh93.46 billion while SMS revenue dropped 3.7 per cent, affected by WhatsApp and other online messaging services. Total revenues rose 8.8 per cent to Sh212.9 billion.
Safaricom's revenues were also boosted by an 11.8 per cent increase in its customer base, bringing total subscribers to 28.1 million.
These figures reflect a shift in the Safaricom business. Although voice and SMS services continue to contribute more to the company's bottom line in absolute terms, it is expected that mobile data and value-added services will be the answer to Safaricom's continued growth.
'NOT WORRIED'
"We are not worried about the fall (in SMS). We expected this to come. We can see it in other markets where SMS has gone very negative," said Safaricom chief executive, Mr Bob Collymore.
Mr Collymore, whose contract was set to expire in August but has been renewed for an additional two years, is expected to steer the company through looming regulatory changes.
Safaricom board chairman Mr Nicholas Ng'ang'a said the company's directors were satisfied with the manner in which Mr Collymore had "successfully navigated" the company through very difficult times during his seven years as CEO.
Safaricom shareholders are expected to share in the profits with the company saying that it would pay out total dividends of a Sh38.9 billion. British firm Vodafone, Safaricom's largest shareholder, will take home an estimated Sh15.52 billion.
Going forward, Safaricom says that it will continue expanding its M-Pesa services and invest in its data infrastructure. The company on Wednesday launched a new payment service in which customers can use a payment card, a wristband or a badge affixed to a mobile phone to make payments faster.
NEAR-FIELD COMMUNICATION
The M-Pesa 1 Tap devices are linked to customer's mobile money accounts and are enabled with near-field communication technology. Subscribers will be able to tap their device at a point of sale, enter their PIN and complete their payments.
"M-PESA one tap will reduce the number of steps that a customer needs to take to pay for goods and services from the current eight steps to just one tap," said Mr Collymore
Roll-out has begun in Nakuru with about 13,000 customers and Safaricom plans to take the technology to the rest of the country this year.
But even as the company expands its products, it continues to face challenges that have eroded consumer and investor confidence over the last few months. Safaricom faced a network outage last month that left millions of customers stranded. The company has since traced the fault to a glitch in a software upgrade. The company may yet face disciplinary action from the industry regulator, Communications Authority.