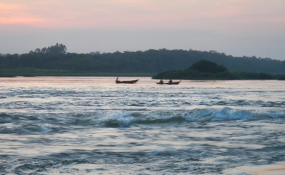 Photo: Daily Monitor
By Edmund Kagire
A deal between Egypt, Ethiopia and Sudan signed in December 2015 whereby the three countries agreed to end tensions over River Nile water faces an unclear future due to ongoing tensions between Egypt and Sudan.
The two downstream countries at the end of April agreed to de-escalate tensions and end counter-accusations as well as import bans and deportations had brought relations between the two countries to tipping point.
As the two neighbours bicker, Ethiopia continued its quest to bring Nile Basin countries on its side as its Grand Renaissance Dam nearing completion.
Ethiopian Prime Minister Hailemariam Desalegn was in Rwanda last week and during the two-day state visit signed a co-operation deal with his Rwandan counterpart Paul Kagame on the Nile.
The two leaders did not speak about deal in detail during the press conference about the memorandum of understanding on water resource management.
With electricity as a bargaining chip observers say Ethiopia will have an edge over Egypt which claims a lion's share of the Nile waters, given to it by a colonial agreement put in place by the British many decades ago.
While Egypt raises concerns over the impact of the project, Addis Ababa maintains that the project will have little impact.