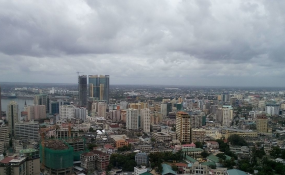 Photo: Ali Damji/Wikipedia
By Louis Kolumbia
Dar es Salaam — Tabora, Mbeya and Shiyanga are among the 11 regions of Tanzania Mainland with a high incidence of witchcraft-related violence and killings, a recent report on the state of human rights in 2015/16 released by the Legal and Human Rights Centre (LHRC) shows.
Released recently, the report shows that the three regions recorded a total of 120 incidents during the year - Tabora (69 incidents), Mbeya (29) and Shinyanga (22).
Other regions with their respective number of incidents in brackets are Geita (13), Rukwa (12), Dodoma (11), Lindi (9), Simiyu (8), Arusha (8), Katavi (7) and Morogoro (7).
Launching the report last week, LHRC researcher Paul Mikongoti said 394 killings of people were recorded by June 2016 compared to 425 killings recorded in 2015, suggesting that the situation might have been worse in the year since data for six months couldn't be immediately established.
"Following these killings, 135 people were arrested and charged, 20 of them have been convicted, 15 have been acquitted and 35 cases are still going on in court. One major challenge in combating witchcraft killings is, however, a slow pace of investigation and taking the culprits to court. The LHRC recommends to speed up investigation and prosecution," he said.
According to the report, the country recorded 320 killings by June 2014, but the highest killings (765 incidents) were recorded a year before, which was a slight increment from 2012 during which 630 killings of people were recorded.
The report quotes the Home Affairs ministry's speech in Parliament during the 2016/17 budget session, saying 222 incidents of witchcraft-related killings, targeting especially elderly people, occurred during the period of July 2015 to March 2016. The reports shows that the majority of the victims of witchcraft killings were women. It further shows that 157 women were killed in 2016 compared to 71 men recorded to have been killed in the same year due to witchcraft accusations. About 90 per cent of those interviewed believe witchcraft beliefs contributed to the killings.
"Witch doctors have been telling their customers, who is harming them or their family members. Being rich or successful in life has partly contributed to increased incidents of violence and killings," reads part of the report.
Other reasons include, lack of education, poverty and inadequate investigation and prosecution. Traditional courts too are blamed for issuing orders to kill suspects in some parts of the country with the elderly women with red eyes turning major victims, usually facing recurrent attacks with machetes, leading to their deaths. Therefore, the LHRC recommends that the police and local security committees should increase efforts to locate, arrest and take to court perpetrators of witchcraft related killings.
The report recommends the government authorities and civil society organisations to increase public awareness campaigns on witchcraft-related violence and killings in society. "Special attention should be given to Tabora, Shinyanga, Mbeya and Geita regions. Religious leaders and faith based-organisations in the regions should speak against and discourage mob justice and strengthen religious beliefs," reads the report.